News
Video Interview: Trump Says He's "Seriously Looking at Banning Firearm Suppressors"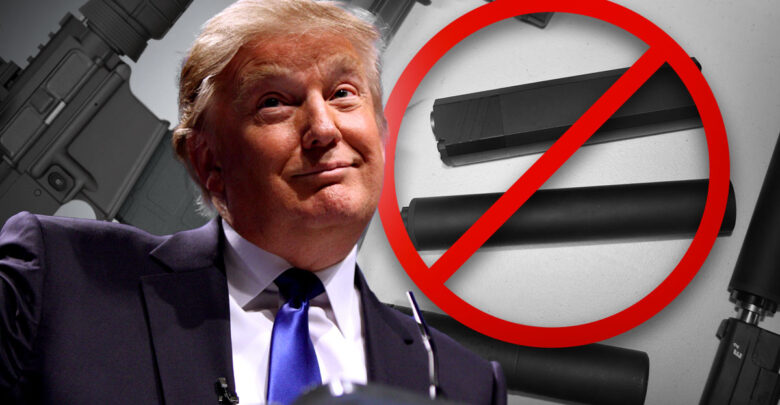 Trump's dislike of suppressors started as an off hand comment to reporter, but now it's starting to look like an actual policy position. Trump says he wants to seriously look at banning suppressors
Earlier in the week
Earlier in the week When asked during a press conference before boarding Marine One the president had discouraging words for Second Amendment supporters. A reporter asked " The suspect in the Virginia Beach shooting used a silencer on his weapon. Do you believe that silencers should be restricted? "
President Trump responded with " I don't like them at all. "
Now in new comments made during and interview with Piers Morgan President trump said he would seriously look into banning firearm suppressors after the shooting in Virginia.
"Well, I'd like to think about it," Trump said in an interview with Piers Morgan on ITV's Good Morning Britain. "I'm going to seriously look at it."
The POTUS discusses gun violence with @piersmorgan. He says unarmed civilians are 'sitting ducks' and don't stand a chance when faced with 'bad guys' with guns.

He adds if people were armed during the Paris attacks 'it would have never happened'.#GMBTrump pic.twitter.com/UI9L56Ifgh

— Good Morning Britain (@GMB) June 5, 2019
Even though the president personally dislikes suppressors he would have a much harder time banning them compared to bump stocks. Suppressors are regulated serialized devices that are protected and regulated under law unlike the already banned bump stocks. If Trump wanted to ban suppressors an executive order would most likely not be able to criminalize the millions of legal suppressors in the united states. In order to that to happen congress would have to pass a bill for the president to sign into law which has almost zero chance of happening.
Suppressors are often misunderstood by the media and politicians. They do not have the same Hollywood style effects you see in Bond movies. Learn more about these devices here: