Foods
Wild Thanksgiving Turkey Recipe
Get ready to spice up your Thanksgiving with a truly adventurous twist!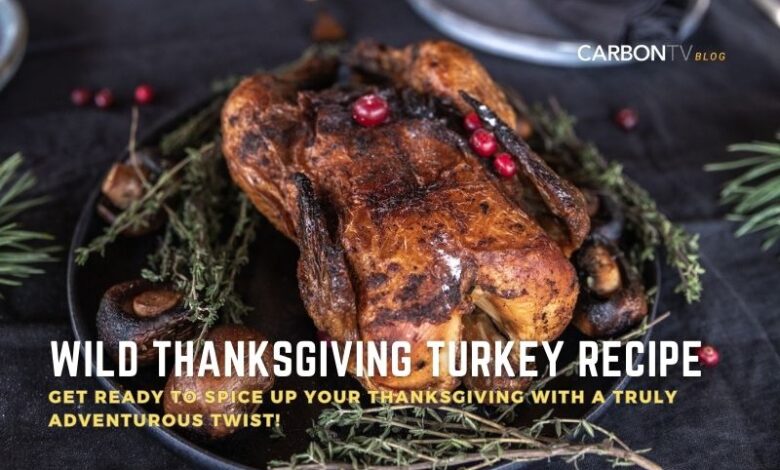 Thanksgiving is a time for gathering with family and friends to celebrate and enjoy a delicious meal together. While many people opt for a traditional roasted turkey, some adventurous cooks may want to try something different and more exciting. In this Wild Thanksgiving Turkey Recipe, we will explore how to prepare a wild turkey, which offers a leaner and more vibrant flavor compared to the typical store-bought turkey. This unique twist on a Thanksgiving classic will surely add a sense of adventure to your holiday feast.
Ingredients
11-13 lb. wild turkey, cleaned
1 sweet, yellow onion, diced
2 apples, chef's choice, diced
4 stalks of celery, diced
1/2 cup of dried cherries
1 stick of butter (1/2 cup), melted
4 cups of breadcrumbs, toasted
3 tablespoons olive oil
Salt & pepper to taste
Preparations
Before cooking the wild turkey, it is important to properly prepare and clean the bird. Start by removing any feathers or visible dirt from the turkey's skin. Next, rinse the bird thoroughly under cold water, ensuring that all areas are cleaned. Pat the turkey dry with paper towels to remove excess moisture. Once the turkey is cleaned, it is ready to be seasoned and stuffed according to the recipe instructions.
Instructions
Preheat the oven to 325°F. Plan for 3-3 1/2 hours for roasting and at least 30 minutes to rest. Start with your bird, rinsed and patted dry. Massage the olive oil on the skin as well as into the cavity of the bird. Prepare your stuffing by mixing the onion, celery, apples, and cherries with the breadcrumbs, then tossing with the melted butter.
(If you wish to cook your stuffing separately, then quarter the celery, apple, and onion and put them inside the cavity.)
Place the turkey in the roasting pan and generously salt and pepper the exterior. Cover with foil and place on the center rack of the oven. After two hours, remove the foil so the turkey can get that golden, delicious glow of a well-roasted bird. At three hours in, use your meat thermometer, between breast and thigh; you are looking for a temp of 165 before removing from the oven. Once you've reached optimal temperature, remove the turkey from the oven and cover.
Tip: Wrap that resting bird in a big towel, pan and all. I swear it keeps the bird extra juicy!

Final Thoughts
As you embark on this wild Thanksgiving turkey adventure, remember to enjoy the process and savor the unique flavors that come with cooking a wild bird. Whether you're a seasoned chef or a novice in the kitchen, this Wild Thanksgiving Turkey Recipe offers a delicious and exciting twist on a traditional Thanksgiving meal. Gather your loved ones, give thanks, and indulge in the flavors of the wild. Happy Thanksgiving!
______________________________
For more information and to explore our content, visit our website at
For more exciting outdoor content and updates, make sure to visit our blog at https://blog.carbontv.com.
______________________________
Explore CarbonTV
Live Cams | Live TV | Shows | Films | Podcasts | CarbonTV Outfitter Services | Firearm Safety | Store
Follow CarbonTV on Social Media