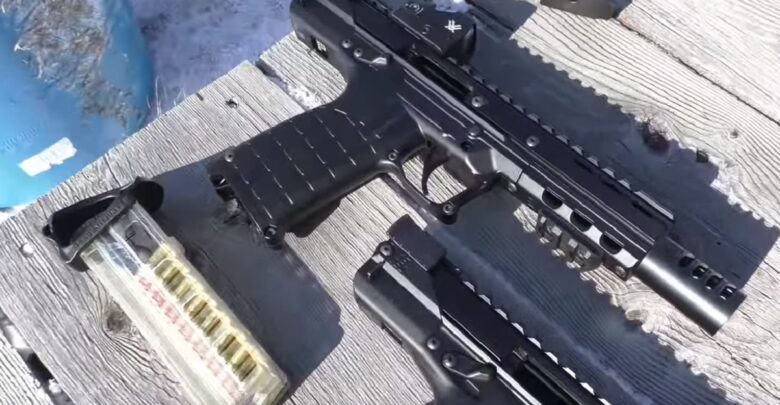 Kel-Tec CP33 may look similar, but it is based on the CMR-30, and it comes with stylish quad-stacked magazines! The standard magazine holds 33 rounds, but with the 2″ extension, it holds a jaw dropping 50 rounds of .22LR. That is the biggest Rimfire magazine we have ever seen (non-drum). The MSRP is a fair $475, which is the best part.
Watch the video review below from Jeremy S. on YouTube.
A Detailed Review of the Kel-Tec CP33
A high-capacity, semi-automatic handgun with an ergonomic design, the Kel-Tec CP33 has excellent specifications. This handgun is ideal for self-defense or target shooting because of its lightweight polymer frame and 33-round magazine capacity. Thanks to its fiber optic front sight and movable rear sight, the CP33 has unmatched accuracy.

The gun's dependability is especially significant because it has demonstrated consistency and dependability in a variety of shooting scenarios. The ambidextrous safety and magazine release of the CP33 make it simple to use for both right- and left-handed shooters, providing an excellent user experience. There are several opportunities for customization, including the addition of extras like a suppressor or an optic sight.
Kel-Tec CP33 .22LR
The Kel-Tec CP33 is a great example of a weapon that meets the demand for high capacity .22LR handguns. This handgun is ideal for plinking at the range or hunting small game in the outdoors thanks to its 33-round magazine capacity and lightweight construction. Its adjustable sights and ergonomic grip make it accurate and simple to use, and its long-lasting construction guarantees dependability.
There are several reasons why .22LR calibre is becoming extremely popular. First off, the caliber is very economical, making a wider spectrum of shooters able to use it. Furthermore, the .22LR guns are perfect for beginners due to their minimal recoil. With its adaptability for both target shooting and small game hunting, the caliber's versatility is another important selling point.
In general, the Kel-Tec CP33's affordability, adaptability, and ease of use are factors that contribute to the growing interest in .22LR weapons.
Kel-Tec CP33 Barrel Extension
The Kel-Tec CP33 barrel extension is a popular choice for those looking to enhance the performance of their CP33. It not only adds length to the barrel, improving accuracy and reducing recoil, but also provides a sleek and stylish look to the firearm. Additionally, the CP33's threaded barrel allows for easy installation of various muzzle devices, giving shooters even more options for customization and personalization.
Overall, the Kel-Tec CP33 is an exceptional firearm that delivers on all fronts. Its performance, ease of use, and customization options make it an ideal choice for anyone looking for a reliable and accurate pistol.
Stay tuned for our own review of this gun at SHOT Show 2019. I'm sure there will be an interesting aftermarket for this gun, like there is for the KSG, which you can watch below.
Watch Kel-Tec CP33 at SHOT Show 2019 on CarbonTV Trade Show Coverage S2 | E3
_________________________________________________
For more information and to explore our content, visit our website at https://www.carbontv.com.
For more exciting outdoor content and updates, make sure to visit our blog at https://blog.carbontv.com.
_________________________________________________
Explore CarbonTV
Live Cams | Live TV | Shows | Films | Podcasts | CarbonTV Outfitter Services | Firearm Safety | Store
Follow CarbonTV on Social Media: