Foods
Recipe: Uncle Mike's Seared Duck Breast with Fresh Green Beans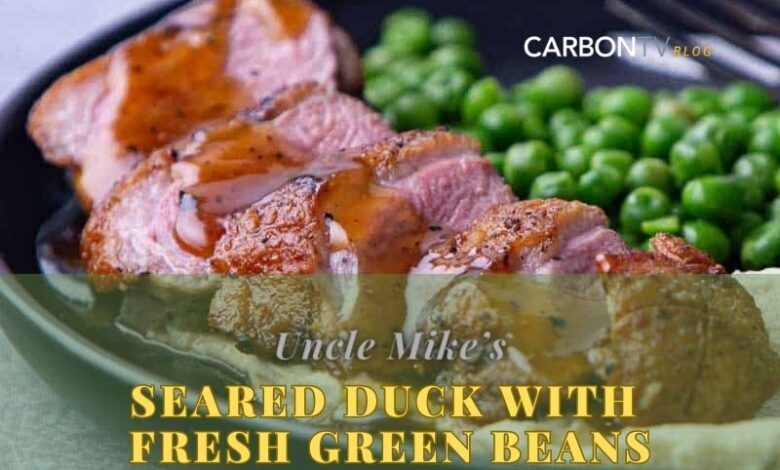 It's a new year and a perfect time to incorporate more veggies into your hunting diet. My uncle Mike is a big duck hunter and has perfected his way around duck breast, even while embracing the Whole 30 diet. Here's Mike favorite Seared Duck Breast Recipe with fresh green beans. Enjoy!
Brief: This recipe features succulent seared duck breast with crispy skin and tender, juicy meat. The duck is seasoned to perfection and cooked to your desired level of doneness. Paired with fresh green beans that are lightly steamed and seasoned with coconut aminos, this dish offers a delightful combination of flavors and textures. It's a mouthwatering meal that will satisfy your taste buds and leave you wanting more.
Also Watch Blood Origins Episode #21 – Kim Rogers "Family"
The Recipe: Seared Duck Breast with Fresh Green Beans
Ingredients
2 duck breasts, skin on, resting at room temperature
Salt and pepper to taste
1 pound of fresh green beans (3 cups chopped)
1 tbsp. coconut aminos (or replace with soy sauce, tamari, or liquid aminos)
1 tbsp olive oil
1 tbsp water
Instructions for preparing the Duck

Pat dry each duck breast with a paper towel.
Season the duck breasts with salt and pepper to your taste.
Place the duck in a cold cast iron or traditional pan with the skin side down.
Set the burner to medium heat.
Cook the duck for 15 minutes on the skin side.
Flip the duck and continue cooking for an additional 10-12 minutes.
As the fat renders off, use it to baste the duck for added flavor.
Remove the cooked duck from the pan and let it rest.
If unsure about doneness, use a meat thermometer; it should read 135°F for medium rare and 170°F for well done.
Instructions for preparing the Beans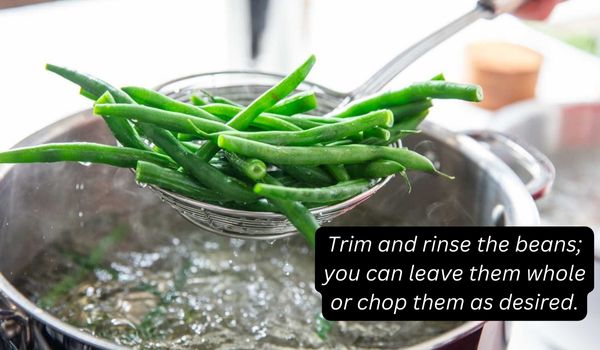 Trim and rinse the beans; you can leave them whole or chop them as desired.
Heat olive oil in a pan over medium-high heat.
Add the beans to the pan and season with salt and pepper to taste.
Stir the beans occasionally, allowing them to brown slightly.
Add a splash of water to the pan to steam the beans; this should leave them al dente but not crispy.
Once the water evaporates, add coconut aminos or soy sauce and toss.
Remove the beans from heat when they are ready.
Serving Style
Serve the seared duck breast with a side of wild rice or roasted potatoes for a hearty meal.
Drizzle a balsamic reduction sauce over the duck breast for an added burst of flavor.
Pair the dish with a crisp white wine, such as Sauvignon Blanc or Chardonnay, to enhance the flavors.
Variations:
Replace the fresh green beans with asparagus or Brussels sprouts for a seasonal twist.
Add sliced mushrooms to the beans for an earthy flavor.
For a spicy kick, sprinkle some red pepper flakes on the duck breast before searing.
Get creative and tailor the dish to your preferences for a truly personalized dining experience.
Nutritional Value Per Serving
Calories: 350
Protein: 25g
Fat: 15g
Carbohydrates: 25g
Fiber: 8g
Sodium: 500mg
Note: Nutritional information may vary depending on the specific ingredients used and portion sizes.
______________________________
For more information and to explore our content, visit our website at
For more exciting outdoor content and updates, make sure to visit our blog at https://blog.carbontv.com.
______________________________
Explore CarbonTV
Live Cams | Live TV | Shows | Films | Podcasts | CarbonTV Outfitter Services | Firearm Safety | Store
Follow CarbonTV on Social Media