News
Mom's Wild Boar & Bean Soup Recipe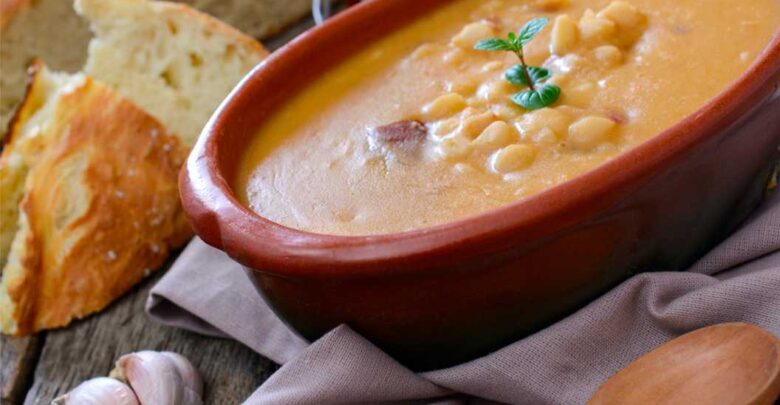 Growing up in Michigan, we always got through our cold winters with lots of soup and sandwiches. My favorite was always bean soup, typically an early January dish my mom made with the leftover ham from Christmas. Last winter, I was gifted with a wild boar ham (and some other cuts) which I used to make this version of my mom's bean soup. The boar adds another dimension to the soup, making it richer and sweeter. Now I need another hookup for my boar fix!
Mom's Wild Boar & Bean Soup
Ingredients
8 tsp ham base
8 cups water
1 lb. smoked wild boar chop or loin
2 T olive oil, separated
½ cup chopped onion
½ cup chopped carrots
½ cup chopped celery
3 cloves of garlic, minced
1 pound dried Michigan white beans or navy beans, soaked overnight
1 6oz can tomato paste
2 peeled and diced Yukon gold potatoes
Salt & pepper
Bay Leaf
Start with those beans. Place beans in a colander and rinse thoroughly with cold water until clear. Put the beans in a pot and cover with 2 inches of water and a teaspoon of salt. Turn heat to low. Stir gently and do not boil. Navy beans cook in about an hour, so let them simmer away while you work on the rest.
Boil 8 cups of water with 8 tsp. of ham base. Whisk together. Once you reach a boil, shut off heat and move to a cool burner or trivet. Typically, I make my own ham stock using the ham bone, but in this instance, I'm going to pretend I don't have one.
Place 1 tablespoon olive oil in medium sauce pan over high heat. Dice your chops or loin into bite sized pieces (finer, if preferred), season with salt and pepper and saute (3-5 minutes) to caramelize. Remove from heat and set aside.
Place other tablespoon olive oil into your soup pot over high heat. Once oil is hot, add carrots, celery, onion and garlic, sprinkle with salt. Cook, stirring over heat until vegetables soften. Reduce heat and add meat. Cook together for 2-3 minutes. Pour prepared broth over entire mixture, add potatoes. Season with salt and pepper, add bay leaf, bring to a boil. Cover and cool.
Test the beans – you will know they are done when they are tender and cooked through, but not mushy. I prefer my bean soup to be a bit thicker and less brothy, so I like to gently mash the beans, leaving some whole and some smashed. Raise heat to medium high and add the tomato paste, stirring to combine.
Now add the beans to your soup pot! Turn your heat to medium and stir, adding salt & pepper to taste. I like to bring the entire mix to a full boil and let it cool one more time before reheating to serve. I think it really brings the flavors together, but my kids tell me it's just as good on the first boil as the second. I'll let you decide!