Announcements
Trending
Scheels Virtual Seminars Hunt Series
Don't Miss Out!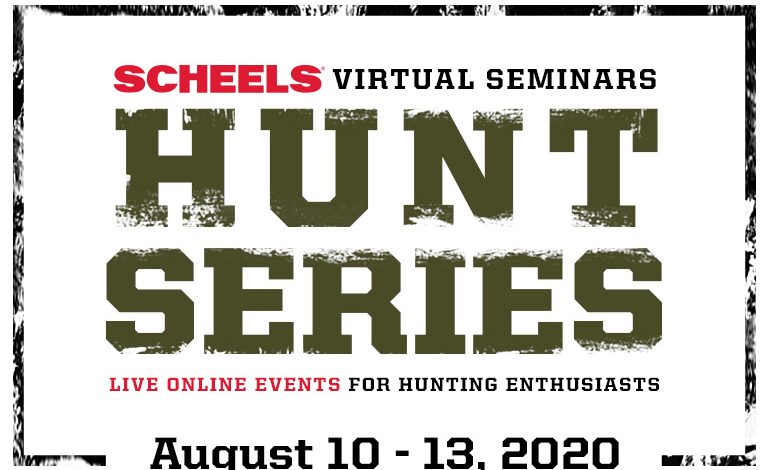 The outdoor company Scheels is offering a virtual seminar series to up your game this hunting season.  On top of having some of the best in the industry they are giving prizes up to $2,500 each seminar, that's right over $10k in prizes! The best part about this series, you can watch these seminars from the comfort of your own home. The only requirement to be eligible for these prizes list below, you need to register here.  You can register to view one or all four seminars.
August 10th – Randy Newberg presents Archery / Big Game @ 8PM EDT / 7PM CDT / 5PM PDT
Successful Big Game hunter Randy Newberg shares stories and experience hunting out in the Western parts of the United States. Attendees will have the chance to learn and ask questions about strategies and gear.  Prizes for this event will include more than $3,500 products from Sitka and Leupold. Register here now!
August 11th – Kile Jones and Brook Richard presents Waterfowl Watch @ 8PM EDT / 7PM CDT / 5PM PDT
Champion Duck and Goose Callers Kile Jones and Brook Richard share experiences, tips and gear recommendations for your next waterfowl hunt.  You will be able to ask questions, and get feedback when you attend.  When you register, it will include a chance to win more than $2,200 prizes from Sitka, Browning, Higdon Outdoors and MOmarsh. Register here now!
August 12th – Jason Phelps presents Archery / Big Game @ 8PM EDT / 7PM CDT / 5PM PDT
Jason Phelps of Phelps Game Calls is talking Big Game Hunting with SCHEELS Experts with this seminar.  Jason is going to share some of his best hunting stories, the best gear of the season and strategy to prepare you for your next hunt.  Get in early to ask your questions, and get a chance to win $2,000 in prizes from Sitka, Mathews and Phelps Game Calls.  Register here now!
August 13th – San Soholt presents Whitetail Hunting @ 8PM EDT / 7PM CDT / 5PM PDT
Join hunter, photographer and public land activist Sam Soholt as he talks whitetail hunting with Scheels Experts. You will learn about Sam's experience growing up and hunting in the Midwest, and plans for the upcoming season.  When you reserve your spot to ask Sam questions you will have the opportunity to win $3,200 in prizes from Sitka and Vortex. Reserve your spot here before it's too late!
Often times these type of events are limited to those that are in the market of the Scheels stores.  Be sure to take advantage of the experts along with their experiences. Not only that, you are going to be able to win great prizes Scheels is one of the largest, and leader as a sporting goods stores in America.  They have been in business since 1902, and the key to their success is their dedication to customer service.  Give SCHEELS a chance to impress you with their 115 years of experience with these Virtual Seminar Hunt Series, and register here.