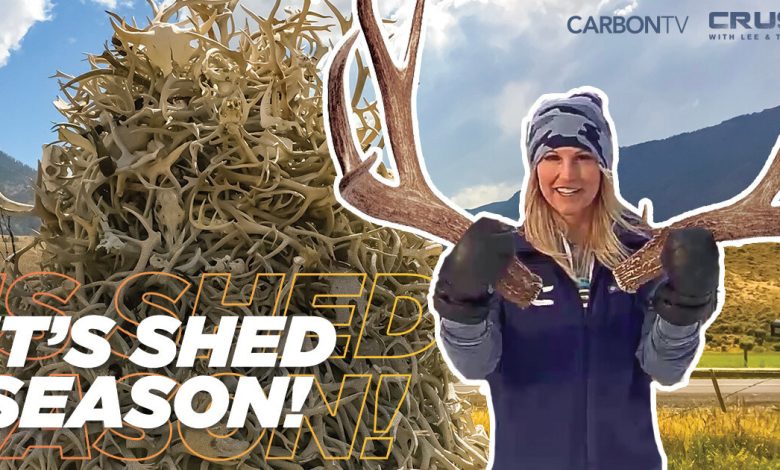 It's Shed Season, and we love this time of the year!!! Not only is it fun scouting for them, but it is also a great way to learn more about the property you are hunting. Watch the video above for a great find from Tiffany Lakosky on their Iowa farm! This is footage from The Crush Cam, a 24/7 live camera on the deer feeder on the Lakosky farm!
What Are Antlers?
Antlers grow from a pedicle, and the attachment point to the animal's skulls; these bones shed and regrow yearly. Bucks usually shed their antlers between January and April, depending on many factors, such as the climate they live in and the age of the deer. The antlers shed due to a drop in testosterone after the rut. The drop results in the weakening of the tissue and bone at the base of the antler, which, at that point, the antler simply falls off during shed season.
How To Find Antlers
The best places to find sheds are areas with low hunting pressure, where there is a food source, bedding areas, and where deer frequently jump or travel. Try walking on some animal trails and watching the ground. Sometimes they can look like tree limbs or sticks, but you'll know when you see one! And the feeling of picking them up is like nothing else!
How to find more sheds?
Here are some additional methods to help you look for the sheds:
1) Hire a dog. With some training, dogs can find and recover things you would have never located since they have 300 million or more scent receptors in their noses (bloodhound). Dogs can cover more land than people and warn you of hidden sheds.
Watch American Ninja … hunting dogs! on Wingshooting USA E1
2) Go outside on cloudy days. Cloudy days might lessen the brightness and shadows that obscure sheds. Cloudy days can also deter other hunters from venturing out, giving you more opportunities and less competition to locate sheds.
3) You'll always catch a large one if you look for the little ones. Sheds exist in various sizes and designs, but most are little and simple to pass by. Your chances of discovering sheds of any size will rise if you learn to search for even the slightest features, such as tines, burrs, or pedicles.
4) Put a GPS marker where you discover sheds. You may learn where deer like to hang out, feed, sleep, or travel by looking for sheds. You may make a map of deer activity and hotspots that will aid you in future shed hunts and hunting seasons by recording the locations of sheds on your GPS.
Watch Appalachian Trail Murder, Arrested for Morel Picking, Research on Deer Age, and More on Outdoor Weekly S2019 | E9
5) Place Summer Trail Cam. Setting up a summer trail cam can be a valuable tool during shed season and hunting season preparation. By strategically placing the trail cam in areas where you suspect deer may frequent, you can capture valuable footage of bucks shedding their antlers.
Challenges you may face finding sheds
Timing is crucial. It may be challenging to determine the ideal time to shed hunt since you must balance being early enough to avoid other hunters or predators and being late enough to assure that most bucks have shed their antlers. You must also consider other elements that may impact antler sheddings, such as the kind of weather, the availability of food, and the length of sunshine.
Watch Whitetail Sheds and Deads 2013,
Whitetail Sheds and Deads 2014,
Whitetail Sheds and Deads 2015 Part 1,
Whitetail Sheds and Deads 2015 Part 2 on Team Radical
Sheds are difficult to find. Sheds can blend nicely with their surroundings or be covered in dirt, snow, or plants. Depending on the deer's behavior and the characteristics of their environment, they may also be dispersed over a wide range or concentrated in a small area. You must hone your vision to seek antler-indicating forms, colors, textures, and shadows.
The need for sheds is enormous. Sheds are prized by hunters and collectors, artists, designers, and even poachers who benefit from their sale. Rodents, coyotes, dogs, and other animals that utilize sheds as a calcium supply may also consume them. It would help if you acted quickly and diligently to locate sheds before they disappear or are harmed.