Foods
Cranberry Elk Acorn Squash Recipe
Chef Shelly's Game Kitchen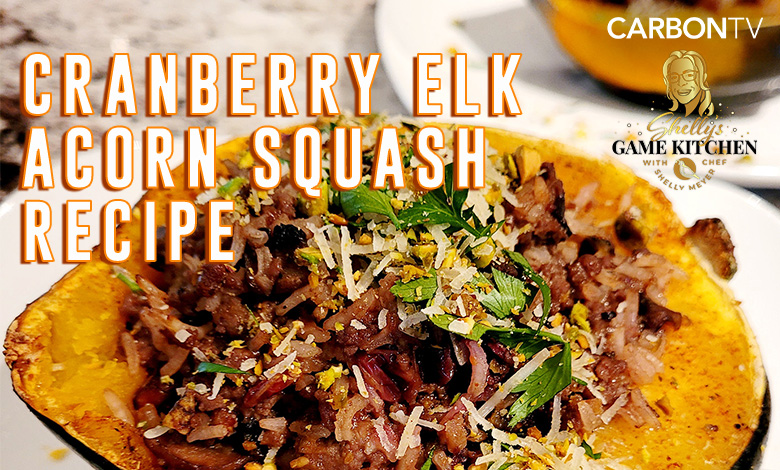 Chef Shelly shares easy techniques that make cooking wild game more approachable with creative and unique recipes. She has over 30 years of experience cooking wild game and as seen on Shelly's Game Kitchen, here is a recipe for her Cranberry Elk Stuffed Acorn Squash.
Cranberry Elk Stuffed Acorn Squash Ingredients: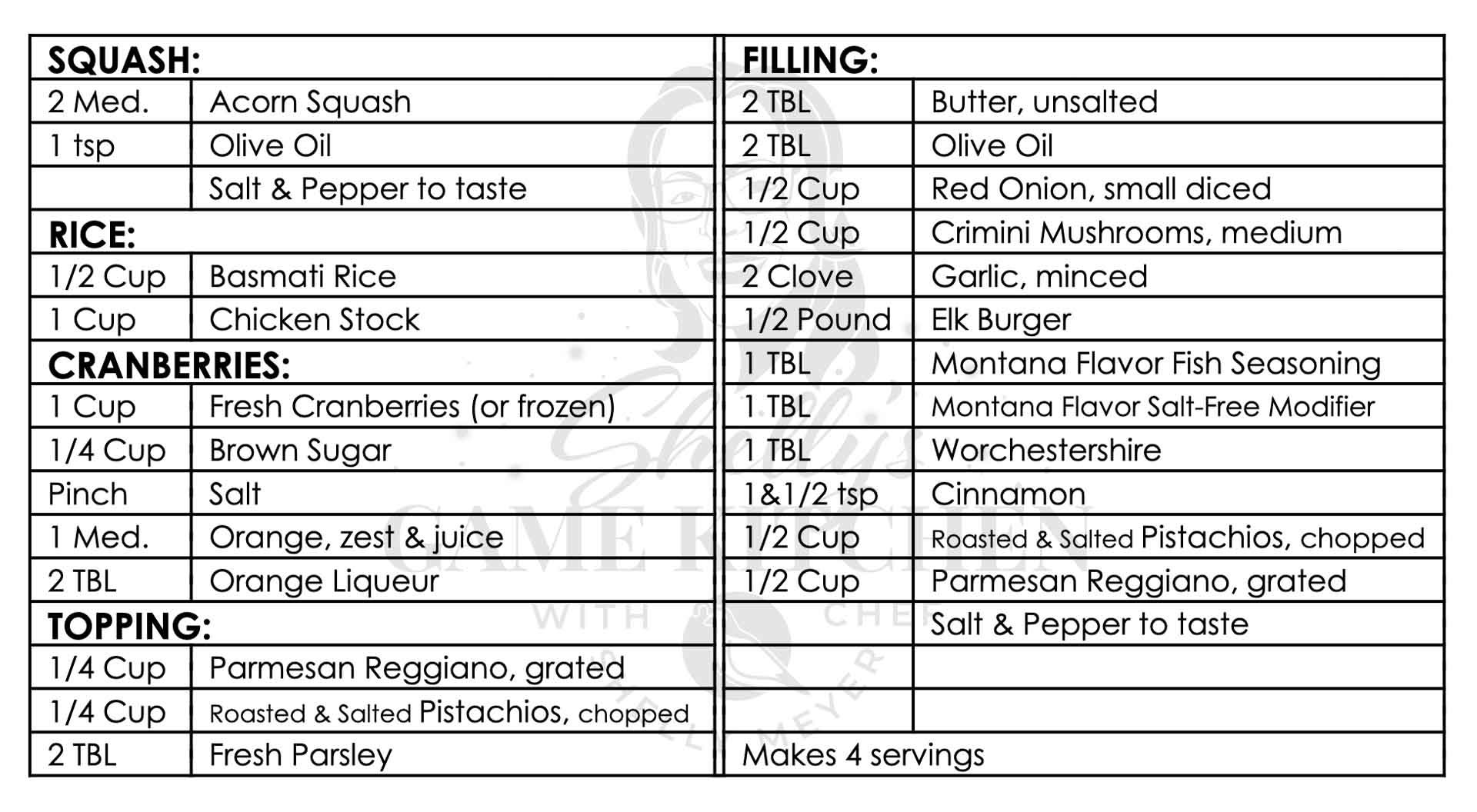 Elk is a very lean meat, low in fat and cholesterol but rich in healthy Omega 3, CLA and other good fats. Not only is it a sustainable red meat because it's free range, but it's also packed with vitamins and minerals – and it's delicious! Try for yourself with this cranberry elk stuffed acorn squash recipe –
Directions:
Preheat convection oven to 425F.
Cut acorn squash in half – stem to tip. De-seed. Rub olive oil inside of each squash half. Lightly season with salt & pepper. Place onto lined sheet pan or casserole dish – cut side down.
Bake for 25-35 min. Until acorn squash is soft when squeezed, but still holds it shape.
In the meantime – make rice with stock in separate sauce pan. (Or use 1 cup pre cooked rice)
Zest the orange & reserve prior to juicing.
Place cranberries in separate sauce pan with juice of orange, brown sugar & pinch of salt. Wen it comes to a boil, add the orange liqueur (omit if desired). When cranberries pop & liquid is reduced by half, add half the zest & stir. Set-aside.
In sauté pan with half the butter & olive oil, sweat onion & mushrooms until soft. Add garlic & sauté for another minute.
Add remaining butter & olive oil, let butter melt then add the ground elk & Montana Flavor to Savor seasonings. Cook until browned & crumbled.
Deglaze with Worcestershire. Add cinnamon – stir to combine.
Add cooked cranberries with any residual liquid to meat mixture, simmer & let remaining liquid absorb into meat.
Add chopped pistachios and cooked rice along with the remaining half of the orange zest. Stir until well mixed.
Turn off heat & add the Parmesan. Taste for seasoning. Stuff cooked squash with rounded portions of meat mixture.
Add back into over for 10-15 minutes.
Plate & top with chopped pistachios, cheese & parsley topping.
We hope you enjoyed this cranberry elk stuffed acorn squash recipe!
Watch how Chef Shelly Meyer prepares the dish in this episode of Shelly's Game Kitchen on CarbonTV!

You may also be interested in CarbonTV's article: Easy & Delicious Walleye Recipes