General
CarbonTV Outfitter Services
Revolutionizing Hunting, Fishing and Adventure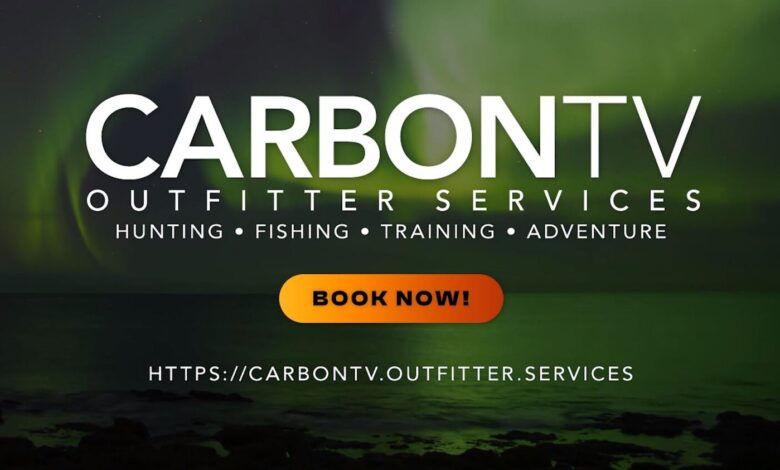 From week-long hunts to all-day fishing charters, instructional courses to mountain expeditions, CarbonTV Outfitter Services offers it all. CarbonTV Outfitter Services is designed to connect hunters, anglers and adventurers with the best outfitters across the globe. This innovative service marks a significant milestone in the hunting and fishing industry.
The CarbonTV Outfitter Services platform leverages cutting-edge technology to create a seamless and efficient experience for both outdoor enthusiasts and outfitters. In addition, this platform provides a centralized hub for booking hunting and fishing trips, and adventures of all kinds. Furthermore, CarbonTV Outfitter Services empowers users to discover, evaluate, and engage with top-tier outfitters tailored to their unique preferences and requirements.
Key features of the CarbonTV Outfitter Services platform include:
Comprehensive Outfitter Directory:
The platform boasts an extensive database of certified outfitters, enabling users to access detailed profiles, client reviews, pre-built customizable gear lists for adventure prep and ratings to assist in making informed decisions when choosing the ideal adventure.
Customized Search Filters:
Users can filter outfitters based on location, species, hunting or fishing style, budget, and other relevant criteria. This ensures that each customer finds the outfitter that best matches their specific needs and desires.
Seamless Booking Process:
CarbonTV Outfitter Services streamlines the booking process by offering a user-friendly interface that allows outdoorsmen and women to reserve their trips directly through the platform. Instant confirmation and secure payment options provide peace of mind for users and outfitters alike.
Trust and Transparency:
CarbonTV Outfitter Services maintains a rigorous vetting process to ensure the highest quality outfitters are featured on the platform. This commitment to excellence creates a trusted environment where outdoor enthusiasts can confidently select their preferred outfitters.
"At CarbonTV, we are passionate about maintaining and supporting what we call our CarbonTV ecosystem. The Outfitter Services platform is designed to connect  adventure seekers with phenomenal opportunities for an exceptional overall experience, and we take a lot of pride in our ability to connect the two." Explains CarbonTV president, Julie McQueen.
"We have experienced and educated team dedicated to creating a platform that offers the tools and exposure to help outfitters and adventurers connect in ways that will provide remarkable experiences in the outdoors."
Ready to hit the road? Connect with CarbonTV's Outfitter Services  – your next epic adventure starts here.