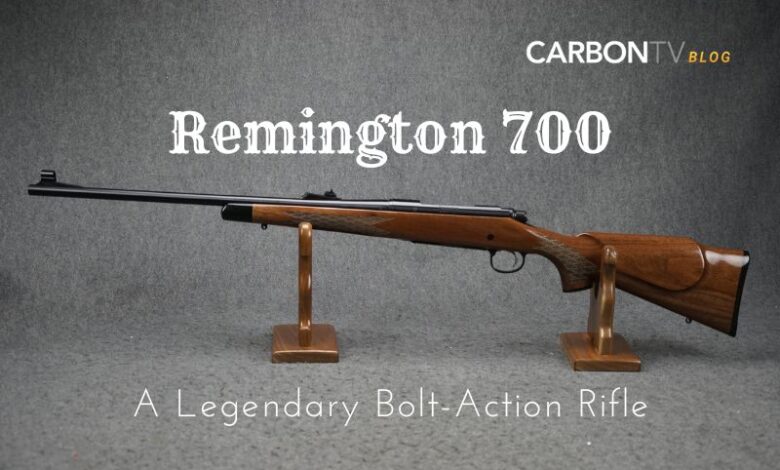 The Remington Model 700, a versatile bolt action rifle, was introduced in 1962 and is prevalent among hunters, target shooters, and law enforcement agencies. Militaries also use the Remington 700 because of its robust and reliable action, as the gun can handle a massive range of calibres and configurations. Let's closely look at the features, performance, and specifications of the Remington 700.
Performance
The Remington 700 is well known because of its performance. The gun is highly accurate and reliable, and it can shoot sub-MOA groups with quality ammunition and proper bedding. The gun's action is solid and smooth. The Trigger on the gun is consistent. The Remington gun is the best option if you are a rough handler because it can easily withstand rough and extreme conditions. Aftermarket parts for the gun are available, making it simple to customize it to your specifications.
Watch South Dakota Whitetail Hunting on Midwest Outdoor Traditions S1 | E1

Specifications
The Remington Model 700 has the following general specs: a weight of 8.99 lb (4.08 kg), a length of 41.5 in (1,050 mm), a barrel length of 16.5 to 26 in (420 to 660 mm), and a bolt action gun. Some other specifications of the Remington 700 are its Magazine, which has two types, either Internal or detachable; its Trigger, a Timney trigger; and the gun's safety, a three-positioned safety. Another specification of the gun is its stock, which may be synthetic or wood.
Safety
The gun has a three-position safety. Using this safety, the user can lock the bolt, load the rifle, unload it while keeping the safety on, or fire it. The safety lever is on the receiver's right side, behind the bolt handle. The Remington 700 bolt release is a small lever or button typically located on the left side of the receiver.
The gun may have one of the two types of magazines: an internal box magazine or a detachable box magazine. The type of Magazine depends on the model of the gun. Similarly, the capacity of the Magazine depends on the calibre of the gun. The capacity may vary from 3 rounds to 6 rounds.

Calibres
In The Remington Model 700, you can chamber 50 plus different calibres of different ranges, like .17 Remington to .458 Winchester Magnum. The Remington 700 is available in the .223 Remington, .243 Winchester, .308 Winchester, .270 Winchester, .30-06 Springfield, and .300 Winchester Magnum calibres, which are all famous and widely used. It depends on the rifle's purpose and which calibre is the best choice for you. For instance, if you only intend to use the Remington 700 for hunting, you might choose the .243 Winchester or .270 Winchester calibre instead of the 7mm Remington Mag.
Watch Hunting Big Mule Deer with Mossberg Patriot on Ron Spomer Outdoors S1 | E16
Customization
The Remington 700 barrel generally ranges from 16.5 to 26 inches, but it may vary depending on the gun's model. Remington has a cold hammer-forged barrel with a 5R pattern. Because of this pattern, the barrel reduces deformation and levels down the fouling. The gun has a threaded muzzle to accept accessories like muzzle brakes, suppressors, etc. Remington 700 thread pitch is 1/2×28. Each model has a different stock. It may be either synthetic or wooden stock with a recoil pad. Also, the stock possesses sling swivel studs and a cheekpiece.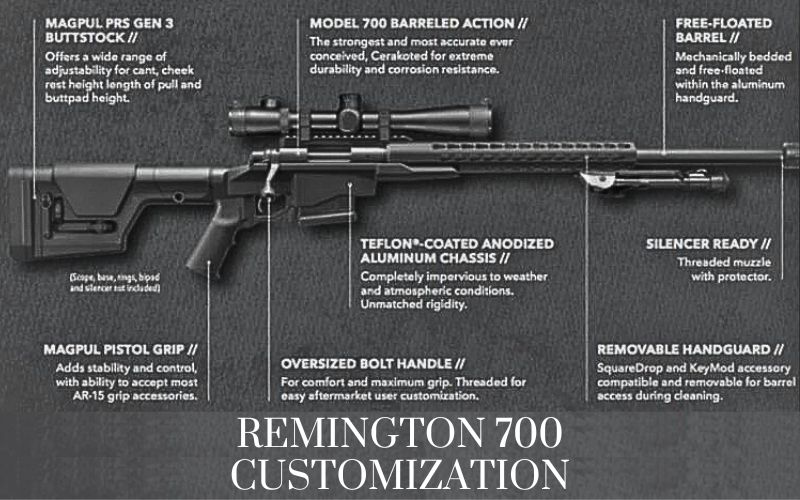 Recommended Model for Deer Hunting
The Remington 700 Mountain Rifle with .280 Remington calibre is considered the best combination for deer hunting. The best features typically found only in custom rifles were used to create the lightweight Mountain rifle (only 6.5 pounds). It all starts with the tried-and-true M700 action, which has been used in more target and custom rifles than any other action, the superbly adjustable M700 trigger, and the best factory rifle stock ever created.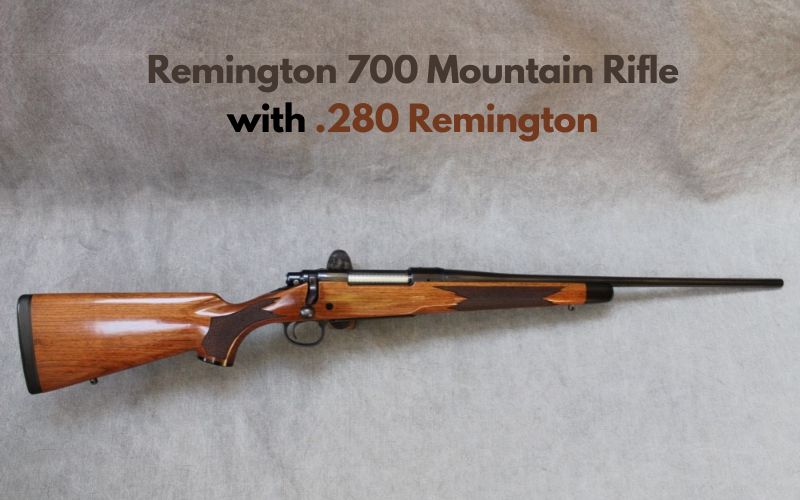 The traditional style stock has a drop-down floor plate for unloading, a black forend tip and grip cap, a rubber butt pad, and traditional point checkering. It is slim for weight savings. Slimming the barrel while keeping it 22 inches long for good velocity helps to save even more weight. Do not let the thin barrel fool you into believing that accuracy will suffer. Almost any ammunition can be fired from this rifle with sub-moa groups. 243, 260 Remington, 270 Win., 280 Remington, 7mm-08 Remington, and 30-06 are among the calibres that are available.
Final Review
The Remington Model 700, a legendary bolt action rifle, has a proven track record of use in multiple fields. The gun is highly reliable and accurate. It is a versatile weapon that serves a variety of functions. Also, the gun can be customized, as it has tremendous aftermarket support. It's a durable rifle that can last for generations, and it can withstand harsh conditions and rough handling easily.
________________________________________________
References
"Remington Model 700." Wikipedia, 10 July 2023, en.wikipedia.org/wiki/Remington_Model_700.
Harville, Brandon. "[Buyer's Guide] Best Remington 700 Models." Pew Pew Tactical, 22 July 2022, www.pewpewtactical.com/remington-700-buyers-guide.
Support, tIMC. Remington 700 Rifle Review | Deer Stalking Equipment / Reviews | Blog. www.countydeerstalking.co.uk/deer-stalking-equipment-/-reviews/remington-700-rifle-review. Accessed 18 July 2023.
Higginibotham, David. "Remington 700 Review: Does This Legendary Rifle Still Deserve Its Reputation?" Gun University, 20 Feb. 2023, gununiversity.com/remington-700-review.
Browning, Chris. "The Iconic Remington Model 700: The Good, the Bad, and the Ugly." Gun News Daily, 12 Dec. 2022, gunnewsdaily.com/remington-700-review.
Buy Remington 700 for Sale Online at GunBroker.com. www.gunbroker.com/Remington-700/search?Keywords=Remington%20700&s=f. Accessed 18 July 2023.