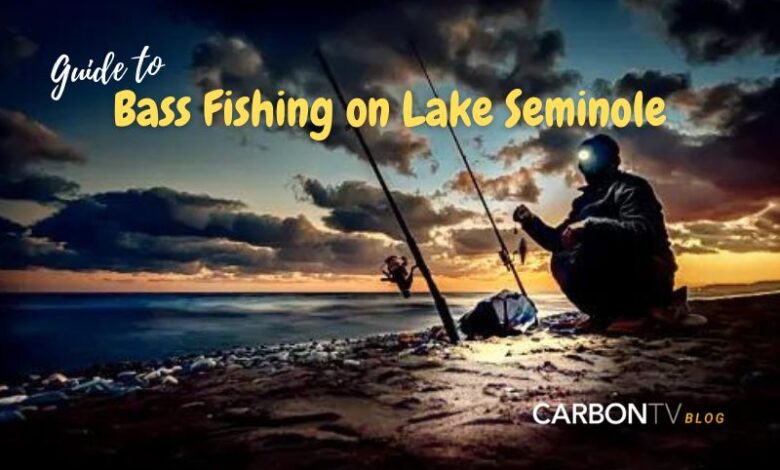 Lake Seminole is considered as a bass paradise in the US as this lake is a home to many kinds of bass. With ample fishing spots, Bass fishing on Lake Seminole provides an excellent fishing experience. However, adherence to certain rules and regulations regarding fishing are necessary to avoid interruptions in your fishing adventure that will be discussed in this article.
Lake Seminole is a reservoir situated in the southwest corner of Georgia while also sharing its border with Florida. This lake is maintained by US Army Corps of Engineers. This lake was opened in 1957 on the completion of Woodruff Lock and Dam Project. Spanning across 37,500 acres, Lake Seminole is known for the diverse and abundant population of bass alongside other species like alligators and snakes.
Notable Species of Fish on Lake Seminole
You'll be able to fish for the following species in Lake Seminole:
Largemouth Bass: Widely present in Lake Seminole, anglers appreciate Largemouth Bass for their impressive fighting ability, as well as their distinctive features such as a large mouth and greenish color complemented by dark lateral stripes.
Striped Bass: Striped Bass are prized game fish due to their size and powerful swimming abilities. They can be recognized by their silvery body adorned with prominent dark stripes along their sides, making them challenging to catch. Striped bass are also seen in Lake Seminole but not as often as largemouth bass.
Crappie: With their silvery or greenish hues and dark spots, crappies are not only great for recreational fishing but also known for their delicious taste. This is why they are among the prefered choice of fishers in Lake Seminole.
Catfish: These fish can be easily distinguished by their bluish-gray color, scaleless bodies, and deeply forked tail. They are attracted to bait thanks to their strong sense of smell.
Read Catfishing in a Lake
Bream: The term "Bream" is used informally to encompass various species of freshwater fish like sunfish and bluegill. Bream are characterized by their compressed bodies, which display a range of colors and distinct patterns. They are abundant and relatively easy to catch.
Popular Boat Launch Ramps on Lake Seminole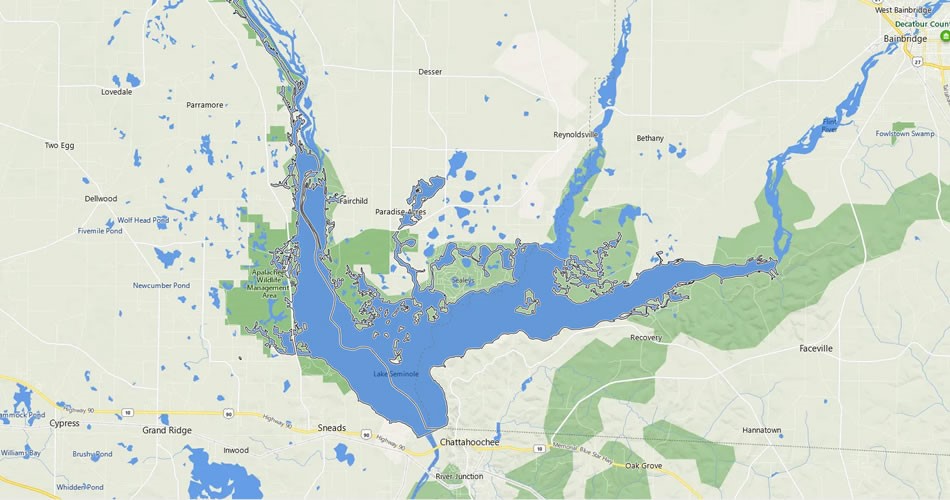 Here is a list of popular landing boat launch ramps for fishing on Lake Seminole:
374 Boat Launch Ramp is a one-lane concrete ramp with a dock that is situated on the north side of the lake, off 374 road.
Booster Club Landing Boat Launch Ramp is a two-lane, concrete ramp with docks which is located in the southeast section of the lake, off Taylor Court, with docks and paved parking.
Facewille Landing Park Boat Ramp is a one-lane, concrete ramp with a dock as well as paved parking, which can be found in the southwest corner of the lake, off Facewille Landing Road.
Be informed that Lake Seminole is littered in stumps, standing timber and other stumbling blocks. Many of these hazards can cause major problems as they are only few inches away from the surface. Therefore, navigate around with extreme caution and fish only in marked boat lanes.
Regulations Regarding Fishing on Lake Seminole
All kinds of fishing in marked around five fish refuge areas is prohibited from May 1st to October 31st each year.
Possession limit for all kinds of fish, regardless of species, is 50.
Some areas in Lake Seminole require a Georgian fishing license whereas others require license issued from Florida. However, there are few places where licenses from either of the states is accepted.
Summary
Lake Seminole offers a captivating bass fishing experience with its abundant population of bass and diverse range of other fish species. With its scenic setting and ample fishing spots, it has become known as a bass paradise in the US. Navigating the lake with caution due to potential hazards and fishing only in marked boat lanes is essential for safety. Additionally, being aware of the fishing regulations, such as the fish refuge areas and possession limits, as well as obtaining the appropriate fishing licenses, depending on the location within the lake, is necessary for compliance. By respecting these guidelines, anglers can fully enjoy their time bass fishing on Lake Seminole while also preserving its natural beauty and ecosystem for future generations.
______________________________
For more information and to explore our content, visit our website at https://www.carbontv.com.
For more exciting outdoor content and updates, make sure to visit our blog at https://blog.carbontv.com.
______________________________
Explore CarbonTV
Live Cams | Live TV | Shows | Films | Podcasts | CarbonTV Outfitter Services | Firearm Safety | Store
Follow CarbonTV on Social Media