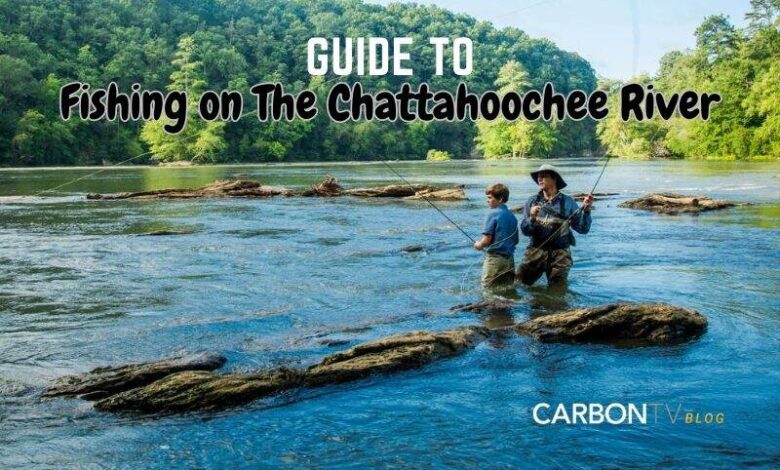 The Chattahoochee River is renowned as the best destination regarding fly fishing in Georgia. Home to many fish species like wild trout, spotted bass etc. and the richness of the oxygenated water, paired with abundant nutrients in the tailwaters of Chattahoochee River, this place provides ample opportunities for anglers to test their skills and stamina. Stick around to know more about the species, fishing spots, suitable months and regulations for fishing on the Chattahoochee River.
The Chattahoochee River originates from the northern half of Alabama and Georgia borders alongside the portions of Florida and Georgia borders. This 430-mile-long river is a tributary of the Apalachicola River.
What to Fish for on River Chattahoochee?
The following species of fish can be found on The Chattahoochee River:
Trout: Since the temperature of the river does not rise from 50° F and with the abundance of oxygenated water, The Chattahoochee River serves as the perfect nourishing ground for trout. Trout exhibit different colors ranging from greenish-blue to olive-brown.
Spotted Bass: Spotted Bass are identified through, well, dark spots on their greenish-bronze body. They, alongside other bass are found downstream The Chattahoochee River where water temperature is warm.
Largemouth Bass: Known for their large mouth with olive or greenish body, largemouth bass are caught because of their challenging ability to fight.
Carp: They are identified by their deep and compressed body with colors ranging from brown, gold or olive. Carp feed by rooting on sediments.
Fishing Spots on The Chattahoochee River
Fishermen looking for trout can try their luck by moving upstream to Buford Dam on Lake Lanier, Jones Bridge, Settles Bridge, Highway 20 and Bowman's Island Public Access areas.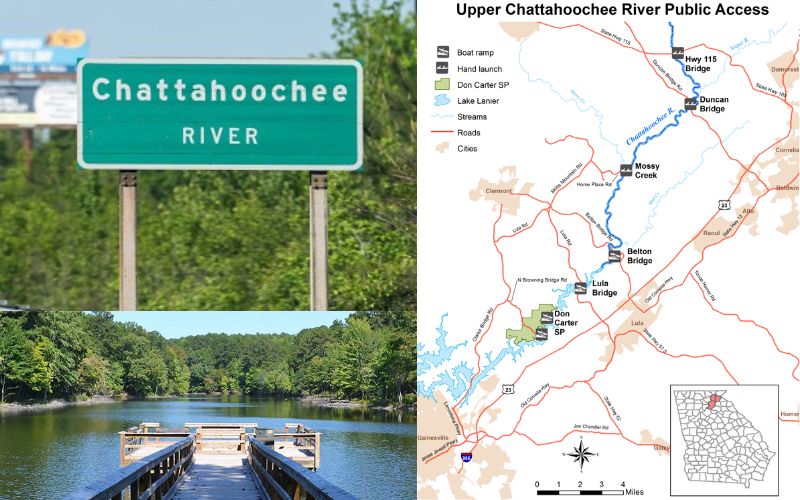 However, if anglers strive to catch shoal bass or striper, they'll have to move above the lake where waters are warm. Mossy Creek State Park and Buck Shoals WMA are suitable areas to catch these creatures.
Suitable Months to Fish on The Chattahoochee River
Months in winter are best to fish for trout on River Chattahoochee via fly fishing.
In Helen, April and May ensure the abundance of freshly stocked trout.
To catch wild trout above Helen, late spring and early summer are the time to go.
A warning displayed on the National Park Service Website informs the visitors about the ongoing construction work and hazards.

https://www.nps.gov/chat/planyourvisit/fishing.htm
Regulations to Fish on River Chattahoochee
Even for a single day to fish on River Chattahoochee, you are required to have a fishing license and trout stamps issued via Georgia DNR website.
Trout fishers are only allowed to use one handheld pole and line.
Using live fish to catch trout is unlawful.
Read more on eRegulations: https://www.eregulations.com/georgia/fishing/trout-fishing
Final Words
The Chattahoochee River in Georgia offers excellent fly-fishing opportunities, particularly for trout. With its cool, oxygenated waters and diverse fish species such as wild trout, spotted bass, largemouth bass, and carp, anglers can enjoy testing their skills and experiencing the thrill of the catch. Various fishing spots along the river, such as Buford Dam, Jones Bridge, and Mossy Creek State Park, provide different fishing experiences. The best months for trout fishing vary, with winter being ideal for fly fishing, April and May offering freshly stocked trout in Helen, and late spring and early summer being optimal for catching wild trout above Helen.
______________________________
For more information and to explore our content, visit our website at https://www.carbontv.com.
For more exciting outdoor content and updates, make sure to visit our blog at https://blog.carbontv.com.
______________________________
Explore CarbonTV
Live Cams | Live TV | Shows | Films | Podcasts | CarbonTV Outfitter Services | Firearm Safety | Store
Follow CarbonTV on Social Media