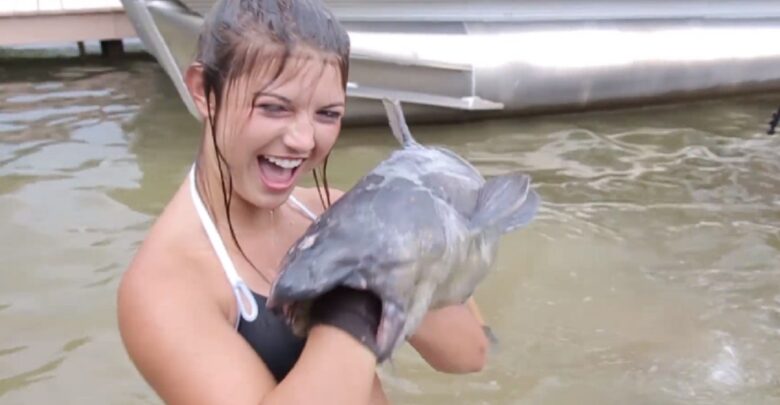 And noodling for catfish isn't the only thing Hannah is known for! Watch the All Things Hunting episode when she chases a deer in Texas!
Listen to Catfish Radio on CarbonTV
Diving into the Unconventional World of Bare-Handed Catfish Fishing
Using only your hands to catch catfish, noodling is an exciting and unique way to fish. Noodling is simple but difficult since you must look for the catfish in murky waters and then reach into their hiding places to catch them with your bare hands. For effective noodling, you must be brave and skilled, since you must be able to hold your breath underwater while searching for fish.
Watch Team Effort Noodling Catfish on Get A Limit Outdoors S1 | C1
This method of catfish capturing is preferred by thrill-seekers due to the unrivaled rush of adrenaline it provides. Numerous noodlers have interesting tales to tell about their adventures, like wrangling enormous catfish out of deep holes and having near encounters with snapping turtles. Despite the dangers, noodling has developed into a popular practice across the country, particularly in Texas, where it's typical to see folks trekking out on the weekends in pursuit of their next big catch.
Watch Noodling Giant Catfish on The Green Way Outdoors TV Show E8
Exploring the camaraderie and values of the hunting community
The hunting community is a diverse and passionate group of people who have a deep love for the great outdoors. Whether they're seasoned veterans or newcomers, hunters come from various backgrounds and walks of life. What brings them together is their shared enthusiasm for the exhilaration of the hunt.
Watch S6E8-Project Flathead on Last Breath TV S6 | E8
This community is founded on camaraderie, tradition, and values that have been passed down through generations. There is a unique bond between hunters that is hard to find elsewhere. Over campfires, they become close, sharing tales of their most recent successes. But a big responsibility comes along with their passion. Promoting moral and responsible hunting methods that put sustainability and conservation first is essential. Hunters that adopt this lifestyle not only enjoy the thrill of the chase but also actively help to protect our natural riches for future generations to enjoy.
More from Hannah Barron is available on her YouTube channel, HannahBarronOutdoors.
_________________________________________________
For more information and to explore our content, visit our website at https://www.carbontv.com.
For more exciting outdoor content and updates, make sure to visit our blog at https://blog.carbontv.com.
_________________________________________________
Explore CarbonTV
Live Cams | Live TV | Shows | Films | Podcasts | CarbonTV Outfitter Services | Firearm Safety | Store
Follow CarbonTV on Social Media: