News
Record Breaking 17.5 Foot Python Captured in Florida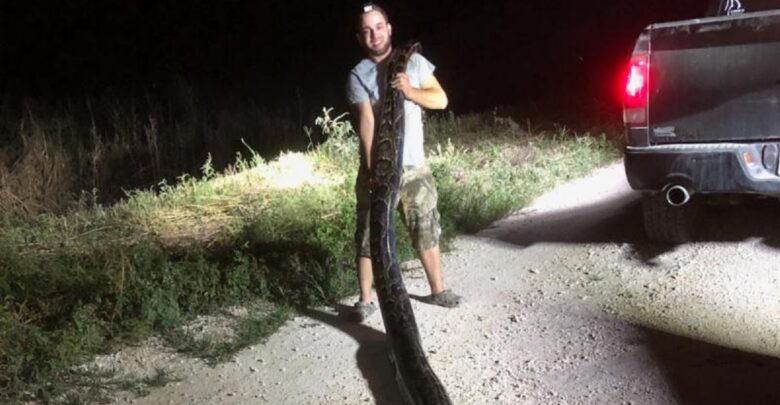 That's a huge snake!
This massive snake was was captured in Miami-Dade County as part of a program to eliminate the invasive species.
You can read the news release from The South Florida Water Management District below:
A record-setting catch earlier this week is moving the South Florida Water Management District's (SFWMD) Python Elimination Program closer to another significant milestone.
Who Caught It?
Kyle Penniston, of Homestead, made the solo capture of a 17-foot, 5-inch female Burmese python while hunting on SFWMD lands in Miami-Dade County late Monday night. The mammoth snake weighed in at 120 pounds. It's the third caught as part of the program that measured more than 17 feet.
With the record catch, SFWMD's python hunters have now eliminated 1,859 of the invasive snakes on District lands, stretching a combined length of more than two miles and collectively weighing more than 11 tons. Penniston is currently second among the hunters, with 235 snakes eliminated. Brian Hargrove, a Miami native, has dispatched the most, with 257.
"Just six months after eliminating the first 1,000 pythons from District lands, this program is about to double that total because of a true team effort," said SFWMD scientist Mike Kirkland, project manager for the Python Elimination Program. "With the Governing Board's unwavering support, District staff and a dedicated group of hunters are working to help control this invasive species and protect native wildlife."
Why Is This Important?
Eliminating invasive species such as Burmese pythons is critical to preserving the rare Everglades ecosystem. Florida taxpayers have invested billions of dollars to restore the water quality and hydrology of the Everglades. Reducing the populations of invasive plants and animals is necessary to ensure this investment results in meeting the shared goals of the overall restoration plan.
SFWMD's Python Elimination Program facilitates the elimination of the invasive snakes on District-owned land. The SFWMD Governing Board has funded the program for the entirety of the 2018-2019 Budget Year. A similar, successful program is managed by the Florida Fish and Wildlife Conservation Commission, the Python Removal Contractor Program. This program pays qualified individuals to survey other specific areas of state-owned land for the pythons, humanely euthanize each python they catch in the field (according to American Veterinary Medical Association guidelines) and then deposit them at designated drop-off locations.
Elected officials and celebrities ranging from U.S. Rep. Francis Rooney, R-Fla., to superstar chef Gordon Ramsey have taken part in the hunts, bringing international awareness to the issue of this invasive species and efforts to eradicate them. Python hunters were also featured in a Discovery Channel television special highlighting the program.
Julie McQueen also covered the program in this episode of Outdoor Weekly