Uncategorized
ATF on the Hunt for Thousands of Illegal Machine Guns Sold on Amazon and Wish.com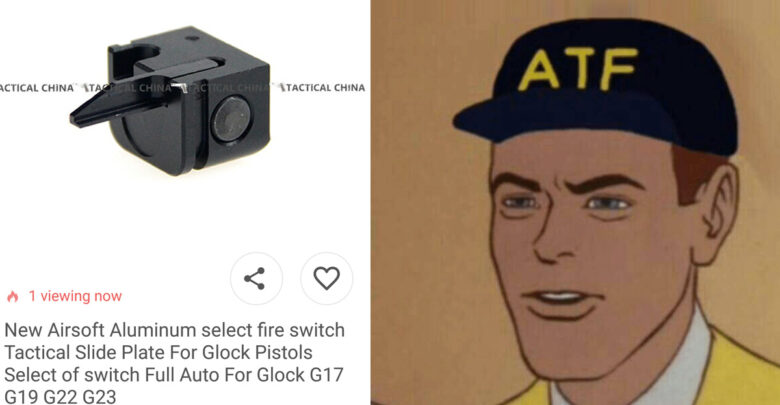 Unscrupulous Chinese retailers were selling Glock auto sears on online marketplaces like Amazon.com and Wish.com. Now the ATF is attempting to track down the thousands of people who bought them in the United States.
Brad Engelbert, an ATF spokesman, described the nationwide recovery effort as a "high priority" for the agency, focused on those devices in the possession of "people who may be a danger to the community."

Engelbert declined to provide details about the number of devices recovered, but ATF and customs officials in Chicago identified more than 2,900 packages containing Glock auto sears "that are believed to have been shipped into the United States" under false customs declarations, according to an affidavit filed in federal court in Rhode Island. Paypal records obtained by the ATF showed over 3800 sales of the devices in the US.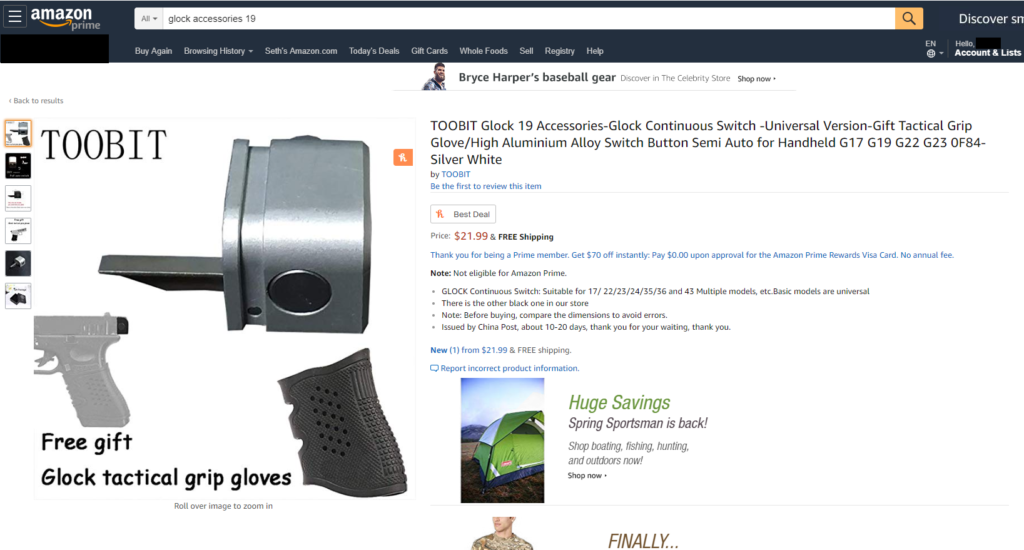 People who bought these devices for as little as $19.99 are in for a world of hurt. Even though the devices were listed as air-soft parts they can successfully convert almost any Glock pistol into an illegal machine gun. The charges facing individuals caught with these devices can be up to 10 years, a fine of up to $250,000, or both for possessing an unregistered machine gun.
One Cleveland man was already charged. Here's what the ATF press release said about his arrest.

A Cleveland man was indicted in federal court for having an unlicensed machine gun.
Toriano A. Leaks, Jr., 20, was indicted on two counts of illegal possession of a machine gun.
Leaks on April 10 possessed a Glock .40-caliber that had been modified into a machine gun. He also possessed a select fire auto-sear, which is used exclusively for converting a weapon  into a machine gun, according to the indictment.
Leak also possessed 21 rounds of ammunition and three magazines, with capacities of 15, 20 and 30 rounds of ammunition, according to court documents.
The investigation is ongoing.
"Adding this specific part to a handgun to make it fully automatic makes that firearm illegal and puts the public at risk," U.S. Attorney Justin Herdman said. "We will work with our law enforcement partners to prosecute all firearms violations, and especially to stop the flow of these parts into the country."
"The possession of illegal firearms is a violation of federal law and a threat to public safety," said Jonathan T. McPherson, Special Agent in Charge of ATF's Columbus Field Division.  "ATF will continue to work closely with our law enforcement partners to protect our communities."
Bedford Police Chief Martin Stemple said: "In reference to the Toriano Leaks arrest and indictment: Officer Stanton while patrolling the City of Bedford, observed a vehicle with some seemingly minor traffic violations, and conducted a traffic stop. Through some keen observations and excellent police work, Officer Stanton developed a routine traffic stop into an arrest of a dangerous individual.  Because of the Officer's relentless determination, the individual's true identity was learned, a weapon and ammunition along with narcotics were all confiscated. The weapon was modified to fire fully automatic, and was found under the driver's seat, fully loaded with high-capacity magazines. This incident just goes to show the dangers our officers face, even on something that appears to start out as a minor traffic violation."
"Keeping weapons out of the wrong hands is critical to keeping our communities safe and to prevent gun violence, we are committed to remaining vigilant to ensure firearms and any firearm parts are acquired while abiding federal laws," said HSI Acting Special Agent in Charge Angie Salazar.
This case is part of Project Safe Neighborhoods, a program bringing together all levels of law enforcement and the communities they serve to reduce violent crime and make our neighborhoods safer for everyone. PSN was reinvigorated in 2017 as part of the Department's renewed focus on targeting violent criminals, directing all U.S. Attorney's Offices to work in partnership with federal, state, local, and tribal law enforcement and the local community to develop effective, locally based strategies to reduce violent crime.
If convicted, the defendant's sentence will be determined by the Court after reviewing factors unique to this case, including the defendant's prior criminal record, if any, the defendant's role in the offense and the characteristics of the violation.  In all cases the sentence will not exceed the statutory maximum and in most cases it will be less than the maximum.
This case was investigated by the Bureau of Alcohol, Tobacco, Firearms and Explosives, the Bedford Police Department Homeland Security Investigations. It is being prosecuted by Assistant U.S. Attorney Scott Zarzycki.
An indictment is only a charge and is not evidence of guilt.  The burden of proof is always on the government to prove a defendant guilty beyond a reasonable doubt.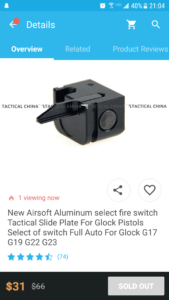 There are only two ways to legally posses a machine in the United States. You can either buy a pre-86 registered machine gun and pay for the $200 tax stamp, or you can have your class 3 FFL. If you have a class 3 FFL you can manufacture new machine guns like this D300.
You don't want to end up in jail, especially a Disney jail.