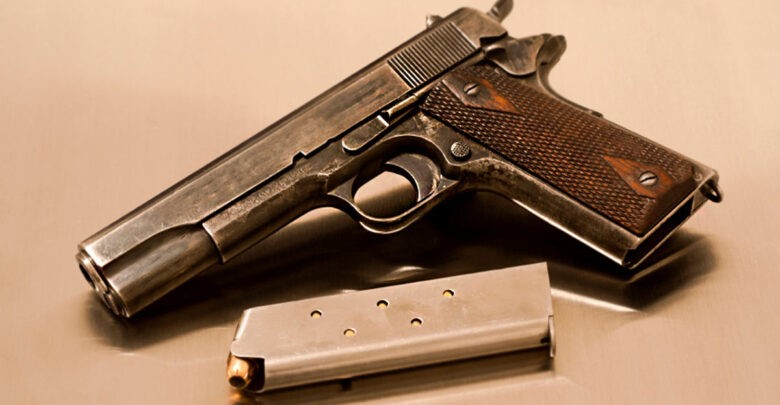 Col. Jeff Cooper, who originated the most recent handgun shooting practices, revolutionized how people viewed the 1911 pistol readiness state. He created a system in which he named the different states as conditions. The conditions he detailed are:
What Are the Conditions?
Condition Zero is when your pistol has one round in the chamber with a cocked hammer and the safety catch is off.
Condition One is also called 'cocked and locked'. It is when you have one round in the chamber with a cocked hammer and the side frame thumb safety functional.
Condition Two is when you have one round in the pistol's chamber and the hammer is fully depressed.
Condition Three is when you have a magazine charged in the pistol but with the hammer down and the chamber having no round.
Condition Four is when you have no magazine in the pistol, no round in the chamber, and the hammer fully down.
Although very scary to those without knowledge of the preventative and control aspects of 1911, condition one is the 1911 pistol readiness state, which most experts endorse. This is because it provides superior stability, security, and promptness.
Watch Firearms & Children on Trigger Time TV S4 | C3
Safety First, Always.
There are several problems with Condition Two. In comparison to the others, it has resulted in more accidental discharges. Due to how the 1911 was designed, you cannot evade the manual safety being off, and the hammer cocks whenever you let the chamber get around. When you want to lower the hammer, you must pull the trigger while keeping your thumb on the firing pin. Primer and firing pin on a live round are located very close to one another. If your thumb slips, you might unintentionally fire the weapon.
In addition to being embarrassing, this could end tragedy, as the finger could be severely injured. The second challenge is that some models of 1911 do not come with a safety block for the firing pin. Although real cases hardly exist, this could unintentionally cause the pistol to go off. Lastly, manually cock the gun with your thumb before firing it. This is not okay when there is an emergency.
Watch Safety at (6) on Building a Champion Gunfighter S1 | C18
Condition Three has some protection while the chamber is empty. But there are many steps involved before you can use the pistol. You will need the 'Israeli draw', created and taught by Israeli forces. For most users, the draw adds to complications in using the pistol. This can bring mistakes to a beginner trying to put a target in sight.
Is The 'Half-Cock' Safe?
The half-cock is intended to be merely a feature to make the pistol fail-safe, not a safety feature. However, some people use it as a readiness requirement. One thing to note is that when the trigger of 'series 80' hammer-carrying 1911s in half-cock condition is pulled, the hammer is more likely to fall off. However, as a 1911 pistol readiness condition, half-cock is a viable option when surrounded by enemies.
_________________________________________________
Related Blogs
CarbonTV Gun Fact of the Week – The 1911
Pair of Meteorite 1911's Expected to Fetch $1.5 Million at Auction
How to Choose the Best 1911 Locking Lugs for Your Handgun
_________________________________________________
About CarbonTV LLC
CarbonTV LLC is an online streaming platform that offers a diverse range of outdoor-themed content, catering to outdoor enthusiasts, hunters, anglers, and sports lovers. With a wide selection of live cams, shows, films, and podcasts, CarbonTV provides an immersive experience in the world of hunting, fishing, and outdoor adventures.
For more information and to explore their content, visit their website at https://www.carbontv.com
Explore CarbonTV
Live Cams | Live TV | Shows | Films | Podcasts | CarbonTV Outfitter Services | Firearm Safety | Store
Follow CarbonTV on Social Media:
For more exciting outdoor content and updates, make sure to visit their blog at https://blog.carbontv.com.