Life Style
News
Police Arrest Florida Man Accused of Selling $1 Million in Counterfeit Yeti Products
And Yeti sent a representative to investigate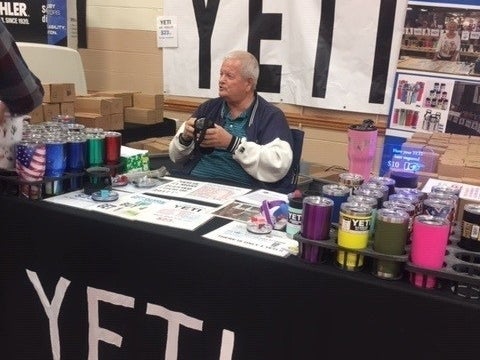 Robin Dana Perry told investigators that they "looked real enough to him" after he was arrested for knowingly selling counterfeit goods.
On 8/22/19, Sheriff's deputies were working at the Will County Fairgrounds in Peotone Township when they were approached by multiple citizens who raised concerns regarding the authenticity of a Yeti tumbler being sold at a Yeti booth. Yeti, based out of Austin, Texas is a successful, high-end business who manufactures outdoor lifestyle products including tumblers, mugs, lids, coolers, and several other products and accessories. 
A few of the deputies, being knowledgeable about Yeti products themselves, looked at the products and also became suspicious. Deputies then contacted a representative from Yeti, who advised that they would send a trained investigator to the fair the following day in order to authenticate the merchandise being sold. Deputies were advised during that communication that Yeti only allows their products to be sold by approved retailers in brick and mortar locations; Yeti products are not authorized to be sold at county fairs, festivals, street vendors, or flea markets.
On 8/23/19, Sheriff's deputies met with a Yeti Investigator and a Senior Special Agent from Homeland Security at the Fairgrounds. The Investigator viewed the Yeti products at the booth of Robin Dana Perry, age 72, of 902 Lucky Lane in The Villages, Florida. He observed several fraudulent issues with the booth and the products.
Shortly after, the Senior Special Agent approached the booth where he purchased two tumblers (for a total purchase of $45) and spoke in length to Mr. Perry. Some of the information collected by that discussion included Perry showing the Agent a fraudulent sign and certificate of authenticity stating he was an authorized dealer. Perry stated that he currently lives in Florida and operates ten booths that sell Yeti merchandise. He stated that he purchases in large volume directly from China so he can offer a lower price. Perry also stated that he has been in the Yeti business for the past ten years.
Deputies then met again with the Special Agent and Investigator who confirmed through examination of the purchased tumblers that they were, in fact, not authentic. Several issues were identified such as; an American Patriot theme was not a Yeti design, font size, printing color, quality, and packaging.
Perry was then approached and asked to come speak with the investigative team. During that interview, he advised that he has sold Yeti for the past several years at surrounding county fairs. He advised that he made $12,000 at the Boone County Fair and had sold the product at county fairs in DuPage, Kendall and DeKalb, and had averaged making $900.00 the first two days at the Will County Fair. He advised that in the past three years it would be reasonable to assume that his gross sales were close to one million dollars. Perry acknowledged that he used various Illinois addresses to ship the products in from China.
Robin Dana Perry was arrested and charged with Counterfeit/Imitating a Trademark, a Class II felony. His bond was set at $25,000 (10% to apply). He posted bond on 8/24/2019 and was released.
Seized in the bust were cashier's checks, USC, a 2014 Ford van, 1,648 Yeti tumblers, boxes of miscellaneous Yeti accessories, and exhibition booth signage. Homeland Security and other law enforcement agencies are continuing their investigation into the suspected fraudulent actions of Mr. Perry.
Here's another scam that outdoorsmen should watch out for: