Life Style
News
Teen caught on video riding mule deer buck
Social media justice catches teen riding buck in an fenced encloser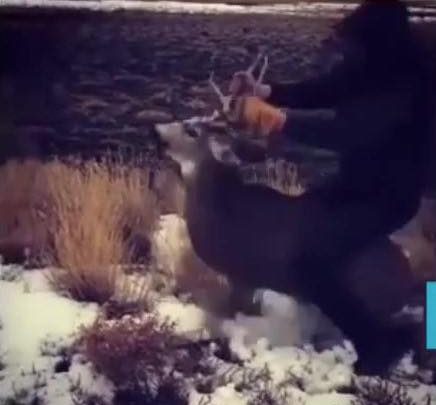 An Oregon teen is facing animal abuse and wildlife harassment after officials at the Oregon Department of Fish & Wildlife viewed a video last Friday.
The video posted on social media shows a "young adult male climbing onto, and eventually riding on the back of a live and exhausted mule deer buck while it was contained within a fenced enclosure." police said. The suspect shows a male in ais wearing a black hooded sweatshirt, holding on to the buck's antlers.  The buck is heard grunting and bleating.  The buck jumped into the linked fence multiple times attempting to escape the rider and enclosure.
With the aid of social media, Wildlife Troopers were able to identify 18 year old, Jacob Belcher.  He is currently sitting in a Harney County Jail on the wildlife harassment and animal abuse charges.  The person accused of filming has not been charged at time of posting this article.
The investigation has shown that the buck has entrapped itself in the fenced feeding enclosure prior to the abuse taking place.  The buck was freed later on, but the current status of the animal is unknown.
Do you think this should be charged as animal cruelty or chaulk it up to teenage shenanigans?