News
Trending
Armed St Louis Couple Defends Home From Trespassers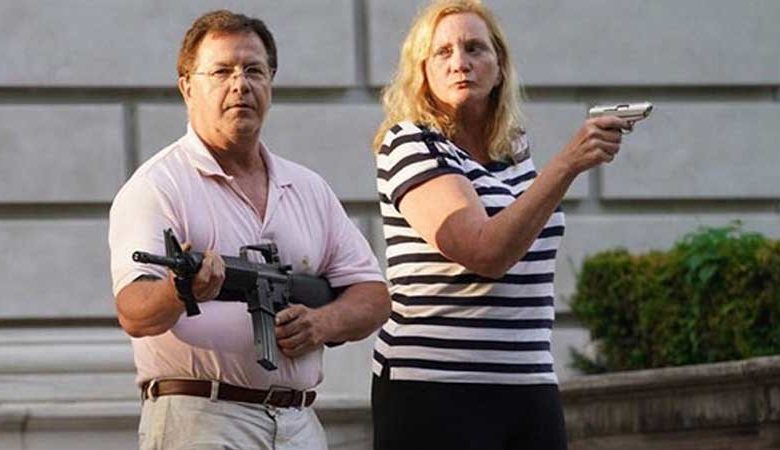 This week hundreds of protesters headed to the home of St. Louis Mayor, Lyda Krewson. They demanded her resignation and recited, "take the cops with you!" The mayor went as far as to post publicly the home addresses of those wishing to defund the police. This caused an angry mob of protesters to gather. While they were marching, the group entered a gated community and were greeted by an armed couple.
These recent protests around the nation have convinced many Americans to purchase their first guns. Protests around the country have turned violent with little to no warning. In many cases, the police have remained back and allowed it to occur. The couple armed themselves after witnessing the gate to their community destroyed, and several hundred people pour in.
The two individual was later identified as local attorneys. While there were within their right to exercise their second amendment, they displayed little to no regard for gun safety.
The woman could be seen pointing her gun at the protestors turned trespassers passing by, and the man didn't seem to care where his barrel was aiming. The two will most likely be the objects of criticism on the national news. Some people are even stating that what the woman did was a form of assault.
Many people are saying that their reaction was over the top. However, given recent events of violence and unrest throughout the nation, it's hard to argue that this protest would remain peaceful.
In the wake of witnessing unrestrained protest, looting, and violence, the St. Louis couple wanted to be certain that would not occur to them or their property. With people shouting to defund the police, it's likely more and more Americans will take up arms as the couple from St. Louis did.
Trespassing law in Missouri
Trespassing as defined in the state of Missouri is when the owner gives notice someone can not enter private property. This criteria is met   when an owner installs a fence, telling the person that they can't enter the property, posting a "No Trespassing" sign, or by marking property with purple paint in a way that is described in the statute.  The gated community had two signs, as well as a substantial fence.