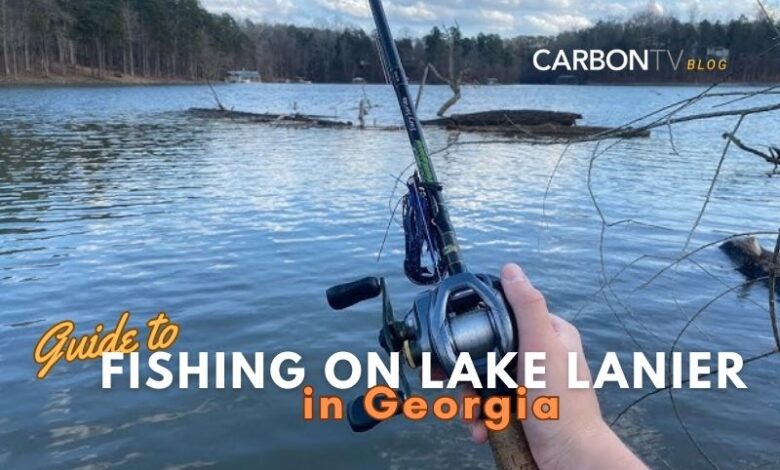 Lake Lanier in Georgia is an all-round fishing spot, boasting many species of fish. Lake Lanier is also known for many accessible fishing spots. After you have finished reading this guide, you'll know exactly which species of fish you can reel in, the best seasons to fish, and what regulations to follow. Keep reading till the end!
Lake Lanier is a man-made lake situated in the northern portion of Georgia. The lake is a reservoir of the Buford Dam, which was built on the Chattahoochee River in 1956. The dam was built to curb the immense flooding in the surrounding areas. Now, Lake Lanier has become more than a reservoir. This 38,000-acre wild lake is home to an abundant population of fish like spotted bass, walleye, striped bass, crappie, etc. Apart from fishing, Lake Lanier also provides ample opportunities for other recreational activities.
[REF: "Lake Lanier." Wikipedia, 3 Sept. 2023, en.wikipedia.org/wiki/Lake_Lanier.]
What to fish on Lake Lanier
Spotted Bass
Anglers often get confused between spotted bass and largemouth bass, as they may appear the same. However, experienced fishermen know the difference between spotted and largemouth bass through their underlying differences in behavior. Largemouth bass usually live in deep water, yet spotted bass maneuver in shallow waters. Largemouth bass like to hide themselves around big rocks or other submerged bodies, yet spotted bass do not exhibit this behavior. Lastly, spotted bass are usually smaller than their large counterparts, largemouth bass.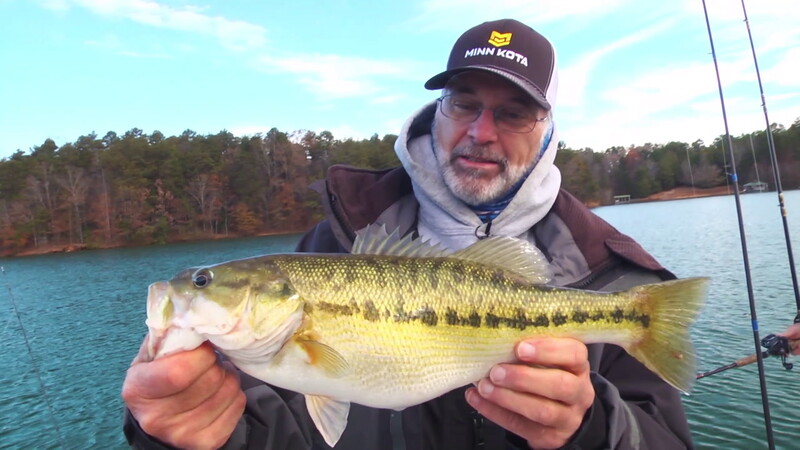 See how spotted bass attack a topwater plug in this episode of Nuts and Bolts of Fishing: Chug Bug Bass.
Walleye
Walleye are commonly found not only in Lake Lanier but also on the Chattahoochee and Chestatee Rivers. They can be caught with both bait and lures. Although their older generation has a refined sense of taste, that is why they are caught with live bait. They are extremely challenging to catch in the summer as they live 40 to 50 feet below water, where sunlight just does not reach. Anglers usually catch them when they migrate from the river during April and May.
Watch and learn how walleye are caught in Lake Lanier: Georgia Walleye.
Stripped Bass
The predator, striped bass, has no particular place in Lake Lanier, as they shall be found wherever there is their prey. Because of their aggressive eating habits, they are large in size, often going up to 79 inches and weighing 45 lbs. Strippers love cold temperatures but absolutely despise a warmer change in temperature.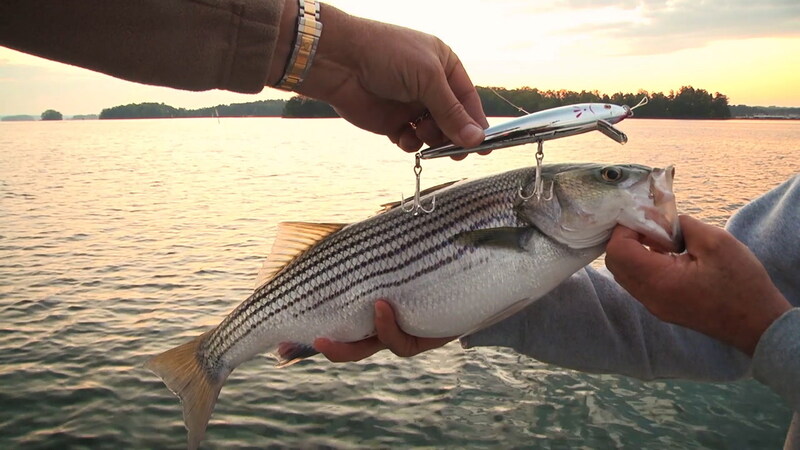 Watch Captain Cefus and Captain Mack catch strippers in Redfin Run N Gun. You can also watch Captain Cefus capture big stripers on topwater here: Top Dog Topwater. 
Crappie
Belonging to the sunfish family, crappies like to live in clear water with brush piles and/or vegetation. However, if such conditions of the habitat are not met in Lake Lanier, then how are crappies found and caught over there? The answer lies in the falling of leaves in the lake, imitating the environment that crappies seek. To catch crappie in Lake Lanier, experts suggest using minnows and small jigs as baits.
Watch "HUGE EVENING CRAPPIES" on FishAddictionsTV S4.
Fishing spots on Lake Lanier
1) Duckett Mill Park
The most accessible fishing destination in Lake Lanier, Duckett Mill Park, offers angling opportunities for everyone, whether they are young or experienced. The park has various fish species to offer, along with a helpful local community.
2) Little River Park
If you are looking for some bassy action, look no further than Little River Park, as its shallows and rocky creeks provide a suitable environment for bass to hang out. This park is situated at the northern end of Lake Lanier.
3) West Bank Park
Situated at the western bank of the lake near Bufford Dam, West Bank Park is popular among the anglers in late fall when they have caught the bass in abundance. This park is also a renowned picnic spot.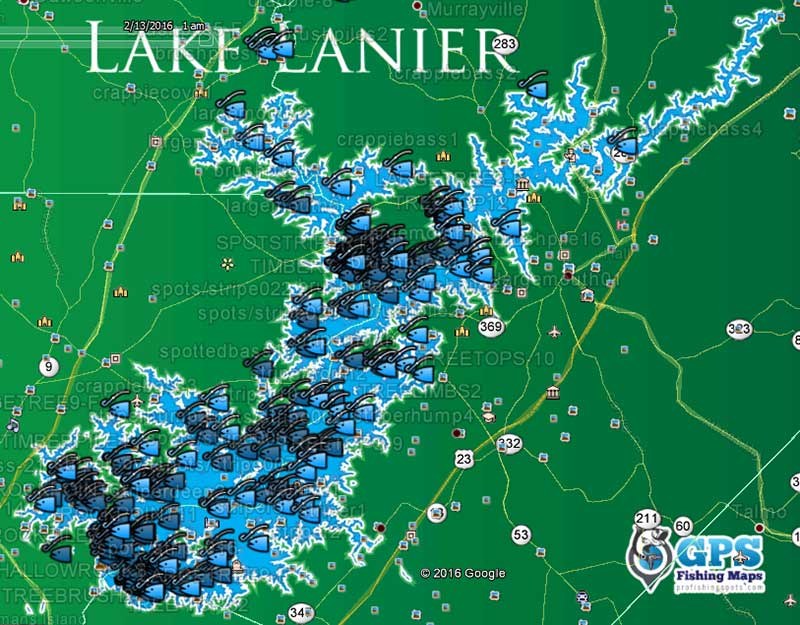 [Image: https://gafishingspots.com/lake-lanier-fishing-spots/]
The Best Seasons for Fishing in Lake Lanier
Anglers can enjoy fishing in all four seasons on Lake Lanier.
Spring: The pleasantly warm water welcomes walleyes, trout, crappie, and bass as they flock in April. This season is ideal for catching crappie.
Summer: Summer nights are ideal for catching strippers and spotted bass.
Fall: This is the season when fish flock to the surface in search of warmer water, and anglers do not miss this opportunity to top-fish them to their fullest.
Winter: Ideal for fishing largemouth and smallmouth bass, as they like cold climates. They can be fished with ease until April.
Regulations
You can catch a total of 10 largemouth and smallmouth bass combined with other kinds of bass. (15 a day for stripped and yellow bass)
The bag limit for walleye is 8 per day.
The length limit for largemouth bass on Lake Lanier is 14 inches.
A Georgia fishing license is required for ages 17-64 before fishing in Lake Lanier.
Conclusion
Lake Lanier in Georgia is a versatile fishing destination that offers a wide variety of fish species and accessible fishing spots. Whether you're targeting spotted bass, walleye, striped bass, or crappie, Lake Lanier has something to offer for every angler. Additionally, the lake's recreational opportunities extend beyond fishing, making it a great destination for outdoor enthusiasts. Upon following the regulations and obtaining the necessary fishing license, anglers can enjoy a rewarding fishing experience in the beautiful surroundings of Lake Lanier. Happy fishing!
______________________________
For more information and to explore our content, visit our website at
For more exciting outdoor content and updates, make sure to visit our blog at https://blog.carbontv.com.
______________________________
Explore CarbonTV
Live Cams | Live TV | Shows | Films | Podcasts | CarbonTV Outfitter Services | Firearm Safety | Store
Follow CarbonTV on Social Media