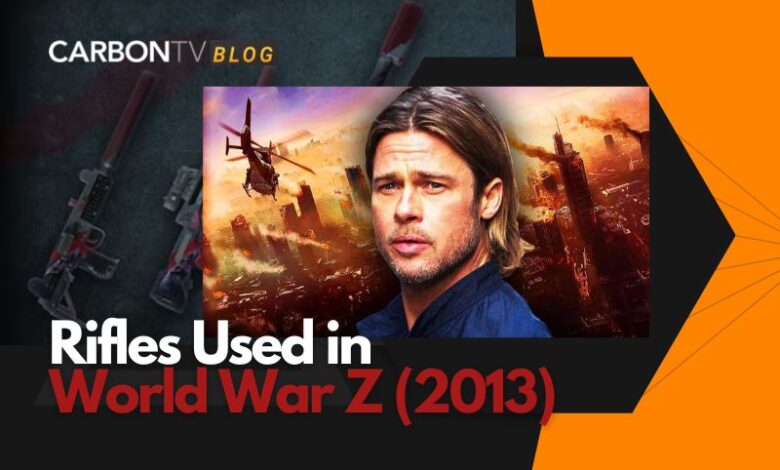 The action horror film World War Z, inspired by the novel World War Z by Max Brooks, was released in 2013. The film opted for the same name as the novel. Brad Pitt, a former UN investigator, appeared as Gerry Lane in the movie. Gerry is assigned a great mission to save the world from the zombie apocalypse. The action in the movie takes place in many locations and scenarios in which Gerry and his companions have to fight off zombies to survive. The review will focus on the rifles used in World War Z (2013).
Movie Plot
World War Z is an action horror film that takes place in various locations around the world during a zombie apocalypse. The protagonist, Gerry Lane, a former UN investigator, is tasked with a mission to save humanity. Throughout the movie, Gerry and his companions encounter zombies and must fight them off to survive. The rifles used by the characters are closely linked to the movie's plot and the challenges they face.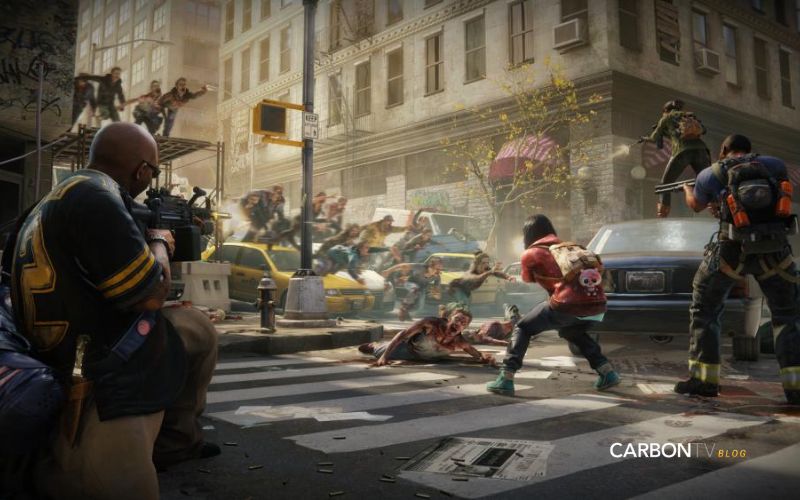 The significance of the Rifles used in World War Z (2013)
The rifles used in the World War Z movie hold a greater significance than just being weapons. They serve as symbols of the characters' expertise, flexibility, leadership qualities, and commitment. For example, Gerry's use of the M16A2 reflects his competence as a UN investigator, while the M4A1 symbolizes his ability to adapt and collaborate with others. Each rifle chosen for the movie reflects the personality and motivations of the character using it, adding depth to the storytelling.
Challenges and Threats faced while using the rifles
While the rifles used in World War Z have their advantages, they also come with limitations. For example, the M4A1 Carbine is flexible and versatile, but its accuracy and stability decrease at long ranges. This poses a challenge for Gerry and his companions when facing zombies from a distance.
Read the Guide to Choosing the Right Rifle Hunting Gear. 
Additionally, the movie depicts moments where characters have to make tough decisions, such as self-sacrifice while using their rifles to protect themselves and others. These challenges and threats add tension and depth to the action sequences in the movie. Let's look at each rifle and the scenarios they were used in.
1) M16A2
This rifle is seen throughout the movie and is the standard rifle mostly used by US military soldiers. If we talk about its specifications, it is 5.56mm with a 20-round magazine and a three-round burst mode, but still, it works in an automatic mode rather than burst mode. It has a slightly low firing rate compared to other rifles, but its accuracy is reliable.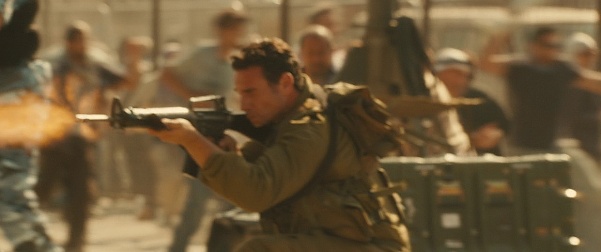 During his mission in South Korea, Gerry used an M16A2 with an ACOG scope and suppressor. He is seen using this rifle to protect himself from zombies and rogue soldiers. The significance of this rifle is also important because it symbolizes Gerry's expertise and competence as a UN investigator.
Watch M16 Style Retro Build For CHEAP on The Wound Channel S1 | E19.
2) M4A1 Carbine
This can be called a miniature version of the M16A2, which has a collapsible stock and a 14.5-inch barrel. It is as large as 5.56mm with a 30-round magazine and is fully automatic, just like the M4A1. It is flexible and all-rounder, but when it comes to long-range, it loses its accuracy and stability. This rifle is a standard assignment for Israeli and US soldiers.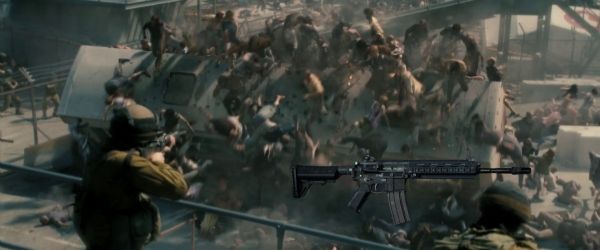 During his mission in Jerusalem, Gerry is seen using an M4A1 with a laser pointer, a flashlight, a suppressor, and an EOTech sight. His female companion, Segen, an Israeli soldier, tries to escape from the city with the help of M4A1. M4A1 symbolizes Gerry, which signifies Gerry's flexibility and ability to repel hindrances. It also signifies his readiness to cooperate and collaborate with people on the same page who share the same goal as Gerry.
3) M4A1 Carbine with M203 Grenade Launcher
This rifle is called the M4A1, with an under-the-barrel 40-mm grenade launcher attached. It is used to explode grenades at targets outside the reach of conventional bullets. The user of this rifle is Speke, who is captain of the US Arny Ranger and conducts special force operations to liberate Gerry from South Korea. His main purpose in using this rifle is to clear zombies coming their way. He self-sacrifices to explode a grenade inside a plane, totally in control of zombies.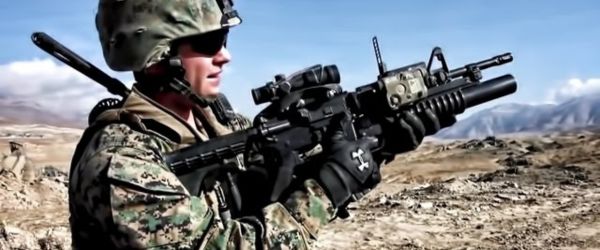 Before dying, he gives the rifle to Gerry. The M4A1 and M203 symbolize Speke's leadership qualities, which prefer self-sacrifice for good. He handed over his rifle to Gerry, demonstrating his belief in and admiration for him.
Watch Aero M4E1 Mad Dragon Cerakote on The Wound Channel, S1 | E105.
4) Custom CAR-15 variant
Car-15 Variant can be taken as a prototype of the M4A1, but with a great customized version of the CAR-15. It differs from the CAR-15 in specifications; for example, it has a short barrel, a different stock, and a different rear sight. It is as large as 5.56mm with a 30-round magazine, accompanied by automatic mode.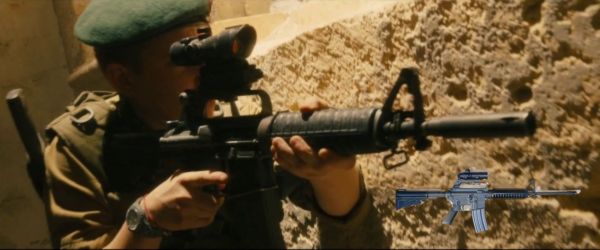 The user of this rifle in this movie is Gunter Haffner, who is from South Korea and performs his duties as a former CIA operative. He is the one who informs Gerry about the major outbreak of zombies. He also uses this rifle to defend himself against zombies, and just like Speke, he sacrifices his life too. A zombie bit him, and to stop this infection, he killed himself and gave his rifle to Gerry. This rifle demonstrates Gunter's personality. He is more silent and has a secret personality. His desire for modification of his weapon shows his distress in hostile words.
5) CTAR-21
This rifle has a 30-round magazine that fires 5.56mm rounds and is made in Israel. Its unique and very fine design makes it different from the rest of conventional rifles. Many accessories, such as lasers and flashlights, can easily fit into this rifle. It runs in automatic mode and is frequently used by Israeli soldiers to protect Jerusalem from zombie attacks.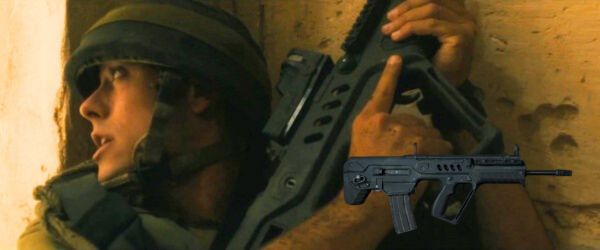 Segen is also seen using this rifle when she and Gerry escape. Segen is seen in various locations, like Wales and Nova Scotia, fighting against zombies. It is a fine example of Israeli technology used to counter zombie threats. Segen is shown as a loyal companion who respects and helps Gerry in his mission.
6) AKS-47
This rifle belongs to the Soviets and fires 7.62mm from a 30-round magazine. Its design is compact and can be easily moved around. It is also in automatic mode and a good partner in the worst circumstances. In the movie, some wretched soldiers can be seen using this rifle and struggling to steal weapons and other accessories from Gerry and his companions.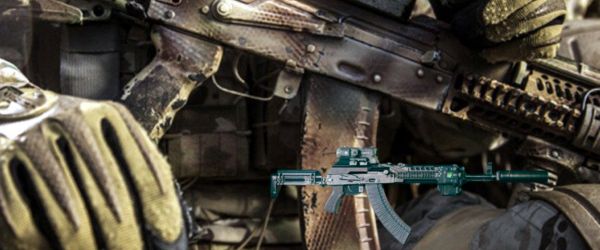 On the other hand, some survivors are also seen using this rifle to fight against zombies. AKS-47 signifies the savagery, brutality, and upheaval that zombies cause. It also symbolizes self-pleasure and an obsession with killing to survive.
Watch the IO AK-47 Test on The Wound Channel, S1 | E10.
7) Remington Model 700 BDL
This rifle belongs to America and fires around 308 Winchester rounds from a 4-round magazine. It is suitable for long-range hunting and comprises a long barrel and a scope. Parajumper, who belongs to the special force, uses this rifle. He is seen on a mission to save Gerry from South Korea.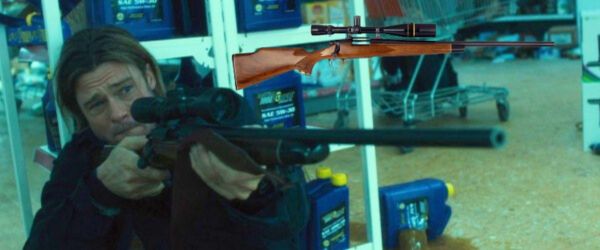 Then he protects Gerry and his team while they board a plane and uses this rifle to shield them. He is also seen killing the zombies. The significance of this rifle reflects commitment and enthusiasm towards Gerry and his mates.
Watch Installing a H-S Precision Stock a Remington 700 Barreled Action on Midwest Outdoor Traditions S1 | E6
Final Review
This brings us to the final review of the rifles used in World War Z. This movie presents a masterful portrayal of a zombie apocalypse and demonstrates many rifles. It is exciting and thrilling when Gerry and his team run against time to save the world from zombies. Rifles' significance is very important throughout the movie as it reflects each user's personality, background, and thoughts. Not only are the pros and cons of each rifle showcased in the movie, but the challenges and threats are also depicted while fighting. The movie revolves around major themes such as collaboration, renouncing, self-sacrifice, and hope in despair. The movie is not portrayed as it was written, but still, it offers entertainment, action, suspense, and a thriller.
______________________________________________________
Related Blogs
Is the AR-15 suited for home defense?
The Mauser 98 Rifle: A Classic Weapon for Modern Times
Behind the Barrel: A Closer Look at the Shotguns Used in John Wick 3
______________________________________________________
References
World War Z (2013) – Internet Movie Firearms Database – Guns in Movies, TV and Video Games. www.imfdb.org/wiki/World_War_Z_(2013). Accessed 28 July 2023.
Seitz, Matt Zoller. "World War Z Movie Review &Amp; Film Summary (2013) | Roger Ebert." Roger Ebert, 21 June 2013, www.rogerebert.com/reviews/world-war-z-2013.
"World War Z." Rotten Tomatoes, 21 June 2013, www.rottentomatoes.com/m/world-war-z.
"World War Z Movie Review." Common Sense Media, 19 June 2013, www.commonsensemedia.org/movie-reviews/world-war-z.
Kermode, Mark. "World War Z – Review." The Guardian, 22 Mar. 2018, www.theguardian.com/film/2013/jun/23/world-war-z-review.
_________________________________________________
For more information and to explore our content, visit our website at https://www.carbontv.com.
For more exciting outdoor content and updates, make sure to visit our blog at https://blog.carbontv.com.
_________________________________________________
Explore CarbonTV
Live Cams | Live TV | Shows | Films | Podcasts | CarbonTV Outfitter Services | Firearm Safety | Store
Follow CarbonTV on Social Media: